When Georgia Institute of Technology Professor Thomas Kurfess asks new students in manufacturing engineering technology programs what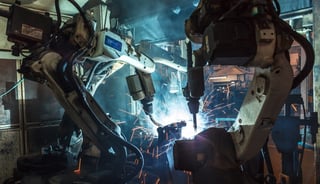 they know about the industry, they reply: "Henry Ford."
"They think it's dirty and nasty, but if you go to a modern manufacturing facility today, it's really clean and high-tech," Kurfess told EdTech Magazine for a recent article. "It's one of those things where you need to keep up with your training, because you're using computers heavily."
The Atlanta school's new Advanced Manufacturing Pilot Facility was built in collaboration with Delta Air Lines, and it's part of the renaissance in manufacturing engineering technology education going on across the country.
The Next Generation of Manufacturers
Veterans in the industry are well aware of the conflicting ups and downs in manufacturing: While durable goods manufacturing output is increasing, the number of workers in manufacturing is steadily declining.
According to the Bureau of Labor Statistics, output increased 166 percent between 1987 and 2017, and during the same period, employment fell from 17.5 million to 12.4 million workers.
What does it all mean? Workers are doing more with less, and young manufacturing leaders must work smarter, not harder. Changing their mindsets has to start early, while they're students in manufacturing engineering technology programs.
Events such as Manufacturing Day are an excellent start, as are the public-private partnerships cropping up on campuses around the country.
New Facilities, New Opportunities
New and expanded manufacturing engineering technology facilities are being developed nationwide, particularly in areas where the industry is already flourishing.
Students at Georgia Tech are working with local aircraft manufacturer Sikorsky, and the area is home to dozens of manufacturers, including Georgia-Pacific. Mercedes-Benz USA recently announced plans to relocate their headquarters to Atlanta from New Jersey.
In the fall of 2016, Greenville Technical College opened the $25 million Gene Haas Center for Manufacturing Innovation. Greenville, S.C., is home to GE Power Systems, Michelin's North American headquarters and the largest BMW plant in the world.
In 2017, Forsyth Technical Community College in Winston-Salem, N.C., finished renovations for its 30,000-square-foot Center for Advanced Manufacturing. The largest employers in Forsyth County include: Reynolds American, Hanes brands and Deere-Hitachi.
Hands-on and High-tech
Leaders in manufacturing technology and education are working to change current and prospective students' perception about the industry to ensure they pursue manufacturing careers.
"We wanted to bring a 21st-century vision of what manufacturing is to young people and their parents," David Clayton, executive director of the Greenville Technical College Center, told EdTech. "It's not a dusty, dangerous place. It's floors that shine, machines that are computer- controlled. It's a place where you're using your mind as much as your hands."
Students in advanced manufacturing programs are learning skills in cutting-edge areas of manufacturing technology; examples include:
Computer numerical control machining

Computer-aided design

Computer-aided manufacturing

3D printing

Mechatronics

Metrology

Robotics
Hardworking WiFi
As campus manufacturing facilities become more sophisticated, so do their wireless communications needs.
Moving massive computer-aided design files to work collaboratively requires a strong network, for instance, and delivering stable and reliable WiFi across big, non-traditional classrooms with fast-moving metal objects is an added challenge.
Communications equipment must-haves include antennas, routers and switches, storage devices and servers, as well as traditional PCs.
For the industry, the need to boost signals for machinery and other warehouse equipment has meant an increased use of WiFi phones for manufacturing.
Transforming Manufacturing One Student at a Time
Clayton, of the Greenville Technical College, said it best in an article for The Greenville News.
"The big challenge for manufacturing is getting people interested in the career," he said. "When they walk in, you want it to kind of hit them in the face: 'Wow, this is really cool. This is not what I expected.'"
To get the technology your need to advance communications in manufacturing engineering, contact Chicago Communications today.