A Day in the life of a Police Officer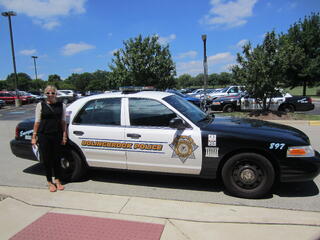 Day Shift 6am-6pm: "You just never know what to expect"
I had the privilege of riding first with Officer Higens. She's 1 of the 6 women working on the 113 member Bolingbrook PD. She works day shifts so her typical week is two 12 hour days working from 6am-6pm, two days off. She's the only female who works her shift besides her sergeant.
Once I pose with the police car for a couple pictures we're off…around the corner to the back parking lot. I didn't join Ofc. Higens until 12:30 so she had already been on duty for 6 and half hours. At the beginning of the day shift, all officers report for role call at the station to go over which beat they're covering for their shifts and anything pertinent that happened outside of their shifts or since they met last. After that officers are on their own to patrol their beats. By the way, the village is divided up into geographical areas called "beats" and each officer is accountable for that area during their shift. We'll be covering Beat 5 today.
Back to the ride along…
Someone had just reported a lost license, and Officer Higens turns the report into dispatch and checks in with the 4 dispatchers on duty today. They discuss an incident that occured the day prior that had left a man in critical condition. Then we're back to the patrol car--which is the staple position for the remainder of the shift. A call comes across the radio for a different beat, but the officer is away from their vehicle, so Officer Higens offers to cover. This call involves checking on an elderly woman who's family hasn't been able to reach her and who missed her appointment at the hospital earlier that day. The officer on this beat meets us at the residence. Both officers approach and knock at the door. After several attempts of knocking with no response, the maintenance director is reached and arrives to let the officers in for a 'well-being' check. The officers search the apartment, but no one is found. The other officer goes back to his car to fill out paperwork summarizing this occurance. It's common for the police to get calls about elderly community to check on their well-being. Other typical incidents during the day shift usually involve calls for Domestic disputes, activated fire alarms, and theft.
Officers communicate continuously and sometimes simultaneously through multiple ways throughout the day. Either by radio, phone or they are able to instant message from the computers in their squad cars. It was hard for me to understand a lot of what was even being said across the radio though. Ten-code is used and mixed in among what I would call regular communication. Ofc. Higens tells me it was something she learned while in the academy (which was 3 months of training-both classroom and practical mock scenarios). And every few minutes (could be more or less depending on the situation) dispatch does a "code 4" to each officer if they haven't been on the radio to check in... code 4 = Are you Ok? I asked "How much of the job can you predict?" She said, "Really you just never know. Most days are normal...but sometimes the calls you think are going to be the simplest turn out to be the most dangerous." Some honest advice for citizens: give officers respect and they will give you respect in return.
Each officer has their own style and area of focus. So beyond what cops witness right in front of them, most choose to focus on specific areas of crime, such as drug trafficking, prostitution, etc. Otherwise they spend a lot of their shift patroling in their beat, running plates, looking for illegal activity whether stolen cars, expired licenses/plates, domestic disputes, etc. For example, we were behind a car that the officer noticed the guy was acting nervous because he kept looking in his mirror. The officer ran his plate and saw his license had been revolked so he shouldn't have been driving. We pulled the car over. And within a couple short minutes an arrest was made.
Later we stopped by the squad room where a couple officers were having lunch. This is where role call is held. I could sense the camaraderie between them that Officer Higens had told me about. When officers get busy they may be bouncing all over into different beats and they often have 2 officers respond to "hot" calls if they are available, always backing each other up. That's another thing I noted that most people probably don't know. If you ever get pulled over and another cop shows up...don't be overly concerned. Most likely the other cop is just checking in with the officer, letting them know they have his/her back, if circumstances were to escalate. Some other things I learned:
Reliable communications are the most important thing when it comes to dispatch. Communication is the link to help, an officer's location, and ultimately their safety.

As far as the communications equipment on the officer goes, all wear ear pieces that are attached to their two way radios. The radios with batteries in good condition will last the whole shift. Ofc. Higens said she is so used to wearing a radio that it feels like a part of her uniform. And the most important thing about the radio is that is works.

Sometimes the job relates to playing an adult version of the game of telephone. A civilian calls 9-1-1 and speaks to dispatch with their emergency... and the dispatcher then passes that information along to the police... and sometimes things get lost in tranlsation. Sometimes the civilian may not be reporting the most accurate information.
Night Shift 6pm-6am: "You gotta have thick skin or else this isn't the job for you."
My next shift was with the rookie of the department, Ofc. Gruben. He'd been riding alone for over 3 months, so in some regard, he was still getting the hang of things. He's mastering how to respond to every kind of call-a skill that comes with time and experience. I commented about how I couldn't understand much of the talk on the radio. He said in the beginning that was one of the most difficult things, getting comfortable and understanding what is said on the radio and what to say back.
As soon as we pulled out he started running license plates right away (to look for ones that had expired, warrants or licenses attached to that plate, etc.) Bolingbrook officers typically make at least 2 stops a day. I learn that weekends are the busiest days for calls and that the Police work with dispatchers to respond to fire, emergency and non-emergency calls that come in. Most common calls are disorderly conduct (disturbing the peace), domestic disputes/battery, DUI's or public intox. When not responding to calls Ofc. Gruben is looking for red flags to make traffic stops (broken tail lights, failure to use turn signals, running a red light or rolling through a stop sign).
Although it wasn't in 'our' beat, we respond to a possible fight in a nearby neighborhood. By the time we have arrived the fight was already broken up and lots of people were scattered all over the streets. Officer Gruben gets out to assess the situation, joins the other officers and speaks with some witnesses. When he gets back in the car I ask, "How or when do you make an arrest in this type of scenario?" As long as there is a victim who is willing to make a complaint or file charges an arrest can be made, but if the victim isn't willing, no arrest can be made and all an officer can do is complete an incident report. However, if the officer sees visibile harm to the victim (cuts, burns, bruises) you can make an arrest. There are times outrageous calls come in that may seem unnecessary to send a police officer to, but he's learned you never know what could be happening.
Another hard part of the job is death investigations. Everytime someone dies in the Village (not in a hospital) an officer has to investigate to find out what the cause of death was. Like a doctor having to deliver bad news, he says the worst part is having to tell the family and seeing their pain.
Biggest parts of the job: Using your best judgment, making decisions on your feet, and knowing the laws, the rights of the citizen and the officer. The nature of the job may differ from one officer to another or between day and night shifts but the most important tool remained the same: the radio system. It serves as the source of all communication-the most vital part of the job. It let's people know where you are and what you're doing, and this puts the officers at ease knowing the someone always has their back.
I asked,
"Do you like giving tickets?"
"No, but it's part of the job."
"Is your job ever boring?"
"Sometimes when the roads are clear after 2am and there hasn't been any calls, yes."
All in all, I learned police officers are a lot like the rest of us. At the end of the day, they are just trying to do their job, only their duty is to protect and serve the community they work in. It can be a difficult job some days, but somebody's got to do it right? Next time you see a police officer keep in mind that they've chosen to put their lives on the line to protect you, so the least you can do is show them some respect.
This article was written by Jill McNamara, Internet Marketing Coordinator at Chicago Communications. Jill has written all of the Meet Our Techs & Employee Spotlight articles for ChiComm's blog.