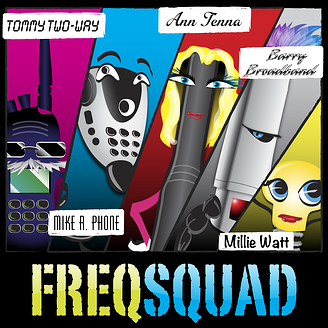 Have no fear, the FREQ Squad is here!
On behalf of the team at Chicago Communications, we'd like to introduce you to the FREQ (pronounced "Freek") Squad. They'll be popping in every now and then to to give you helpful hints and tell you about the latest happenings for all things 'freq-y & geeky'. They've all graduated from the FREQs Academy, each with their own specializations. They'll be sharing valuable information related to two-way communications equipment & accessories, important announcements about products, promotions, regulations and answers to frequently asked questions. Now that you've heard about their antics, let's get to know each member a bit better.
Tommy Two Way: "Just try and stump me!"
Tommy's been around the block and back. He's a techy old timer who's been active since the beginning of two way radio. He thinks he's pretty smart, often saying, "I don't just talk the talk, I can walk the walk."—using his mustache as an indication of his many years of wisdom. We urge you to try and stump him with technical questions!
Mike R Phone: "Can you hear me now? (Thumbs up!)"
Heard the phrase, We like Mike? Mike's a fun, easy-going guy who has the mobile ability to really get around. He's usually always on the go, from one mobile site to another, working to save the day when he can. Thumbs up from Mike means things are A-ok. We like Mike and hope you will too.
Ann Tenna: "Without me, communication just wouldn't be the same."
Ann's part in amplifying coverage makes her a Very-Important-Part (VIP) of the radio working well, and she won't let you forget it. When she isn't busy demanding the spotlight on her (she attracts electricity she says) she's helping increase signal coverage. Graduated MVP of her class at FREQs Academy.
Barry Broadband: "Keep to your own licensed spectrum, or ELSE!"
If you can't already tell from the Mohawk, Barry is a tough guy. His natural instincts are to guard those who can't fend for themselves and he's got a hot temper from his years in Broadband Boot camp. This comes in handy for wireless broadband, where he specializes in managing secure connections and keeping out intruders.
Millie Watt: "Power is the rate at which energy is generated or consumed."
Millie may be shy but she's full of bright ideas. She comes from the largely famous Watt Family where major energy production makes up the core of their kind. Millie also takes special care in safety and productivity, so count on her for generating intelligent guidance wherever power and energy sources are present.
So....Who's your favorite member? Give us your feedback in a comment below. Or follow the FREQ Squad on Twitter!
This article was written by Jill McNamara, Internet Marketing Coordinator at Chicago Communications. Jill has written all of the Meet Our Techs & Employee Spotlight articles for ChiComm's blog and continues to seek opportunities for similar blog articles from current employees & customers. If you'd like to submit a suggestion for the blog, Contact Us!