Pointer from the Principal: Perseverance and hard work ….. it really does pay off.
Anyone who's ever been in a job that involves serving customers has had one of "those" meetings. You know the one I'm talking about. The one where the customer tells you he or she is disappointed with your service.
Well, I had one of "those" meetings a couple of years ago with a customer who we asked to meet with because he was anxious about doing business with us following an experience he had with us several years prior where he was less than pleased with our company's service level (a lesson in itself ….. unsatisfactory service experiences stay with people for a very LONG time).
During the meeting I tried my best to convey to the customer that we were a different company than the one he dealt with years back, and that I was confident we wouldn't let him down if he gave us another try. I promised him that everything would go well and gave him my direct line should he have any concerns along the way. Thankfully in the end he agreed to give us another try.
That meeting, as difficult as it was, only served to heighten the focus we already had on our internal processes, and on our communications, both internally and with our customers. It pushed us even further to regularly check that our efforts were moving us in our desired direction, so if necessary we could improve upon them more quickly.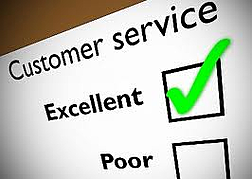 In July of this year I received a letter from the customer I had "that meeting" with. He began by recalling our meeting of a few years ago, and then followed by stating that we "more than kept our promise". He specifically highlighted the individuals in our Company who "have unquestionably demonstrated how we have succeeded" in keeping our promise to him, and "turning the 'too much like work' Company into the 'get it done' Company". Wow. I was blown away. I knew we had worked hard to improve our processes and communication, but to see it in writing from the customer really hit home.
So, did this mean we could now rest on our laurels -- that we had all of our bases covered? Absolutely not! There are always improvements that can be made in a company and there always will be. A business has to focus on continuous improvement and together as a company persevere when challenges arise, because it really does pay off. Maybe not the same day, or in a week, but down the road it absolutely will.
As National Customer Service Week approaches (October 1st-5th) I'd like to sincerely thank all of our customers for their business, and especially thank those who for whatever reason at one time or another honored us with a second chance (you know who you are), as it allowed us as a Company to further improve, and to strengthen our relationships. Customer service is the cornerstone to any business and it is all of you who help make us better. Thank you.
We'd love to hear your feedback. Leave a comment below!
To read other "Pointers from the Principals" click here or to watch our company video, click here!


This is a guest blog written by one of Chicago Communication's Principals, Cindy Glashagel. Cindy has over 27 years of experience in the industry. She held many positions during her tenure at Motorola, beginning with Systems Engineer and other various customer service, quality & operations management, and HR positions before resigning to start Chicago Communications, LLC.