Hospitality social media accounts are up and running for all aspects of the industry, from consumer trends to innovation, technology and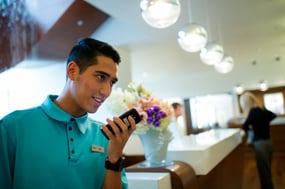 communications. There is no shortage of options for accounts to follow, like or connect with that provide the latest news, updates and forecasts.
Given how important communication in the hotel industry is to keep all operations running smoothly, it's key to stay on top of the latest technology offerings and how they're being used. Hospitality social media can be a helpful tool for keeping a pulse on what's new in technology and beyond.
Here are 9 must-follow hospitality social media accounts:
AHLA + Lodging Magazine
The social media accounts for the American Hotel & Lodging Association are a great way to stay on top of the policy and legislative issues affecting the lodging industry, as well as mainstream media coverage of startups such as Airbnb.
Lodging Magazine is the organization's official publication and has its own reach with separate social media accounts, including Facebook, Twitter, LinkedIn and Instagram.
Hospitality Net
From its home in The Netherlands, Hospitality Net provides "a daily feed of industry news, appointments, photos and opinion articles" to more than 20,000 Twitter followers. The social media content includes information on the data and analytics side of the industry, making their accounts a good option if you're looking to beef up your knowledge in that area.
Hospitality Technology
For help finding resources, helpful apps and relevant partners, these social media accounts are a good choice. Hospitality Technology has content aimed at both hotels and restaurants, covering the whole spectrum of operations, from kitchens to marketing.
Hotel News Now
This media outlet's social media accounts stay true to their mission of providing "vital information for hotel decision makers." With coverage of everything from electoral politics, to industry mergers and acquisitions, to conferences, following their accounts will keep followers in the know.
Hotel Tech News
If you're looking for someone to curate all of the technology news about the hotel sector into one feed, this is the Twitter account for you. It's got links to interviews and articles about the industry from a diversity of sources all over the world.
htng (Hotel Technology Next Generation)
htng bills itself as the trade association where "hotel technology professionals collaborate for the greater good of the industry." Its accounts are a must for keeping track of industry influencers and events in the U.S. and abroad.
Motorola Solutions
While not strictly hospitality social media, the Motorola Solutions accounts offer a smart way to keep an eye on general communications technology trends for security and public safety. Their teams attend conferences and trade shows all over the country and post videos, information and insights from each – the next best thing to being there.
Skift
With nearly 178,439 followers on LinkedIn, 60,000 followers on Twitter and 27,000 Likes on Facebook, Skift earns its self-professed definition as "the largest industry intelligence platform providing media, insights and marketing to key sectors of travel." Its social media accounts are an easily digestible way to access the information the company continually gathers about the travel industry.
To meet your needs for wifi solutions in the hospitality industry, contact Chicago Communications today!