Technical equipment isn't all boring!
Most people in the commercial world have little knowledge of the two way radio industry and how it works. I can relate to this because I used to be on the outside myself. Even just mentioning the word 'two way radio' to me, I would have probably said, "huh?" And there are days I still get asked what kind of company Chicago Communications is; I usually go for the same explanation when I answer. Two way radios are walkie-talkies, but not the ones little kids play with across their backyards or in the neighborhood woods. I'm talking about the professional kind that police officers use to communicate with each other while on duty, in their cars or in pursuit. But it doesn't stop with police officers. There are many, many more uses for two way radios just like there are many more products and services available from ChiComm. Here are a mere 8 situations radios are used that reminded me just how "cool" it is to be a part of this industry.
1. Right now... a Mototrbo capacity plus system is: helping a hotel keep its cool.
On another sweltering day, a guest in a south beach luxury hotel tells the desk clerk that the air conditioning in his room isn't working. An assistant manager instantly routes a work order ticket to the maintenance manager's radio using TRBO capacity plus. Maintenance begins work immediately and the air conditioning is fixed before the guest returns, helping the hotel add to its reputation as the coolest place on Miami's hottest strip.
2. Right now...Mission-critical wireless earpieces are accelerating pursuit of a fleeing suspect.
In Novato, CA. an armed robber holds up a currency exchange, takes thousands of dollars and runs off through an adjacent neighborhood. Officers arrive in time to see the suspect run away and begin foot pursuit. Using mission critical wireless earpieces with their APX radios, they are able to chase the man unencumbered by dangling cords, while securely communicating with backup units who are able to help apprehend the suspect without a shot being fired.
3. Right now...Mototrbo IP site connect is: streamlining delivery for a bunch of nuts.
In response to increased demand, a nuts and bolts maker has expanded its product line and added a second distribution warehouse. But the challenges of communicating across town could result in late deliveries and unhappy customers. Fortunately, their workers use a Motorola Mototrbo two way radio system with IP site connect software which makes doing business between multiple locations easier and lets them realize the sweet smell of success.
4. Right now...Two way business radios are: cutting unloading time by 75 percent.
Two truckloads of medical supplies arrive at the receiving dock six hours later than expected and the hospital customer is panicking. Leveraging real time wireless communications, the distribution manager coordinates efforts of the entire warehouse team, enabling them to unload the supplies in 30 minutes rather than the typical two hours. Using two way RDX radios, the manager directs crews inside, outside and on the move, enabling the customer to not only receive their supplies ASAP, but to breathe easier.
5. Right now...Mototrbo connect plus digital trunking is locating a missing snowplow in a blizzard.
The season's first blizzard has arrived with 50 mph winds, frigid temperatures, driving snow and limited visibility, and the town's plows are out in force. Dispatchers use the GPS tracking capability of MOTOTRBO Connect Plus to keep tabs on dozens of crews working round-the-clock to clear more than 250 miles of roads. When a dispatcher has had no contact with a snowplow driver for more than 20 minutes, she uses GPS to pinpoint the vehicle location and send help, saving him from the danger of a long and cold winter night.
6. Right now...Mototrbo radios and wind porting microphones are: reducing the howling wind to a whisper on a wind farm.
In a gusty wind across Ontario, Candada, a maintenance worker climbs up a 90-foot high steel tower to repair one of the 86 turbines on Wolfe Island, Ontario's second-largest wind farm. Despite the noisy, windy and difficult conditions nine stories up, he must be able to clearly communicate with his partner on the ground. Motorola MOTOTRBO radios with wind porting microphones help ensure his safety by eliminating background noise and delivering clear and reliable communications that get him up into the clouds and back down again.
7. Right now...portable radios are helping kids get home safely.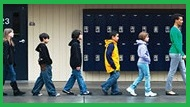 Asa teacher is supervising her students boarding their school buses, she receives an urgent call from the office on her CP185 portable radio. A parent has an emergency and needs her son to go to his grandmother's house, meaning he must take a different bus. The teacher immediately radios the bus drivers to locate the boy, and gets him on the correct bus and safely to Grandma's.
8. Right now...Mototrbo radios are tackling communications on a football weekend.
On the campus of a mid-size university, football weekends present security with the toughest communications challenges they face all year. On game day, a security officer spots a counterfeit ticket scalping operation in progress. Using his two way radio, he notifies colleagues around the stadium and campus police, who are able to stop scalpers within a matter of minutes, saving many fans from being both swindled and disappointed.
So now maybe the next time you walk into a hotel, a football stadium, or even a school, you'll take a second to look around and see if you notice two way radios in use. That way you can feel a little more at ease with the safety, security and operations of the environment you're in.
For communication solutions that relate to your industry, visit our website or contact us to speak with an expert.
This article was posted by Jill McNamara, Internet Marketing Coordinator at Chicago Communications. The scenarios mentioned here are examples provided by Motorola Solutions. Jill has written all of the Meet Our Techs & Employee Spotlight articles for ChiComm's blog.