The health care industry has some of the most complex communications needs imaginable: in addition to the safety, security and privacy of patients and staff, the industry has mountains of patient data to handle and technology trends to track.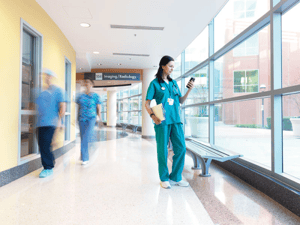 There is no shortage of innovation in health care when it comes to communications, and things are getting more high-tech all the time for patients, health care professionals and staff.
Here's a look at 6 things the health care industry is doing to improve communications.
Strengthening Wireless Networks
With the urgency in the health care industry around interoperability and allowing for the seamless transfer of electronic health records (EHRs), secure and reliable wireless networks have become even more important.
Hospital IT departments are leaning on their networks to support technology that affects everything from the operating room to the pharmacy, and that increased demand means the need for greater wireless network capacity.
Switching from Smartphones to Two-Way Radios
Two-way radios are a uniquely ideal solution for the health care industry for some of the same reasons they're so well-suited to public safety: reliability, security and immediate communication with the push of a button.
Hospital systems, campuses and medical centers are switching from smart phones to radios to instantly connect security personnel with medical staff and administrators. Radio manufacturers have also ensured that communications can be encrypted to comply with HIPAA regulations.
Upgrading from Analog Radios to Digital
For hospitals and health care systems that have already made the smart switch to radios from cell phones, the next step to improving communications is to upgrade to digital radios from analog.
Digital two-way radios improve communications by providing better audio quality, capacity and coverage. They have double the battery life of analog radios. And they deliver next-generation features such as integrated GPS, text messaging, text-to-speech capabilities, and more data.
Leveraging Radio Applications
In addition to adding radios, the health care industry is also making use of the radio applications available, particularly the ones with the power to transform any device into a two-way radio.
Motorola recommends the WAVE Work Group Communications solution for hospitals and health care clients looking to instantly connect radio users to non-radio users. WAVE's PTT platform allows instant communications across smartphones, radios, computers or landlines.
Installing High-Resolution Network Cameras
Axis network products have become a popular choice in the health care sector because of their capabilities, flexibility and reliability. The camera systems enhance communication by allowing live and recorded high-res video to be accessed from any authorized computer, no matter where it's located.
Images can be shared directly with security officers, administrators or law enforcement over the web or through mobile devices.
Investing in Alarm Systems with Automatic Alerts
Today's alarm systems not only detect trouble, they alert staff that it's happening as rapidly and efficiently as possible. The alarm systems can integrate into existing building management and networks, and when an alert is raised, the system will send alarms via text or audio to MOTOTRBO devices. And it will keep sending alarms until someone responds.
To get the communications technology you need at your healthcare facility, contact Chicago Communications today!