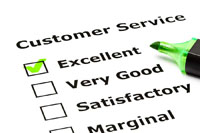 The best mobile apps for customer service will take you even farther toward putting your entire business or operation in the palm of your hand, allowing you and your team to remotely track, answer and resolve customer service issues in real time. As you're well aware, exceptional customer service can be that special something that puts you ahead of the competition, so being responsive and available is key.
Luckily, the best cloud and on-premise customer service platforms offer mobile versions for handling on the go. Most offer similar suites of capabilities for responding to customer calls, emails, social media inquiries and other contacts, so it's worth giving several solutions a test drive for a free trial month to see which of them is the best fit for your team.
Once you get your mobile app up and running, you'll wonder how you ran your business or operations without it. Here's a sampling of the six best mobile apps for customer service:
1. ZenDesk
ZenDesk is the leading cloud-based customer service and support ticketing platform. Thousands of e-commerce and brick-and-mortar-based companies around the world use ZenDesk for their customer service, including Groupon, OpenTable, Xerox and Lonely Planet. The ZenDesk app is available on Android and iOS devices.
2. Desk.com
Desk.com, a Salesforce company, is one of the most popular customer support platforms for small and growing businesses. The Desk.com mobile version tracks, resolves and re-assigns cases quickly, and the email feature allows users to reply to messages or leave notes for team members. The app is available for iPhone, iPad, Android and Android tablets.
3. Freshdesk
Freshdesk is another popular solution, particularly among small businesses, for its range of cost options (from free to $79 a month), its frequently updated functionality and friendly customer service. Its mobile app allows users to keep tabs on tickets, manage social streams and respond to inquiries via phone support. The freshdesk app is free for Android devices, iPhone and iPad.
4. TeamSupport
TeamSupport, true to its name, bills itself as collaborative customer support software. It's a solid alternative to the shared email box approach that can be nearly impossible for a large team to manage successfully. From the app, users can create, search and view tickets, and look up customers and see their tickets. The TeamSupport mobile app is available for iPad, iPhone and Android.
5. LiveAgent
Users describe LiveAgent as a small but mighty and well-priced competitor to the large customer service platform providers. It's an economical way to give even a small company a big customer service advantage. The mobile app, available on Android and iOS, is a work in progress but allows users to chat with customers anywhere and send quick replies.
6. Kayako
Kayako counts large and mid-size companies among its loyal client base, as well as many universities. From the Kayako mobile app for Android, users can edit customer cases, add notes and replies, and upload attachments. The app also allows for offline viewing when strong cell service isn't available. The company says the iOS app is coming soon.
To get the communications technology your staff needs to provide excellent customer service, contact Chicago Communications today!