When it comes to school safety grants, funders are looking for well-defined plans with best-practice-based solutions. While each school and district is unique, there are some universal tools and technologies that can benefit most situations and set your grant application apart.
Asking for the right technology demonstrates both that you've done your homework and that you're committed to finding innovative ways to use your funding efficiently.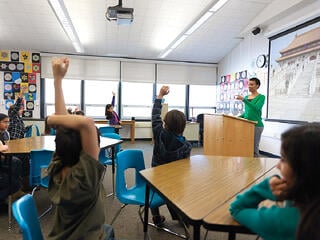 Here are 5 proven technologies sure to bolster your school safety grant application:
1. Sophisticated surveillance cameras
Strategically placed cameras are the most trusted tool available for preventing, investigating and prosecuting incidents on campus. The Axis Network Cameras allow administrators and law enforcement to access real-time surveillance and remote viewing by connecting to any kind of IP network, including the internet. They also feature motion and audio detection.
2. Digital two-way radios
If you've conducted any kind of emergency drill or emergency preparedness evaluation, you've likely uncovered the limitations in the reliability and reach of your current communications system. Digital two-way radios made by Motorola are a solution that bring immediacy when you need it most and the ability to connect to towers in your community to ensure connections across schools, campuses and with first responders. When it comes to school safety, two-way radios are a necessary communications tool.
3. Bidirectional amplifiers (BDAs)
Including a bidirectional amplifier (BDA) in your school safety grant application signals to funders that you're preparing a comprehensive communications strategy. A BDA system is a signal booster that provides reliable coverage by ensuring signals have a way into and out of facilities, including two-way radio, cellular voice and data, as well as Wi-Fi and paging. You can learn more about BDAs here.
4. Electronic control door systems
Electronic access control systems give administrators the power to balance the competing needs of safety, openness and utility: students, staff and parents can pass through doors easily, while unwanted visitors can not. Teacher and staff ID badges can double as access cards, and access to doors can be controlled from a central location, giving the flexibility to shut off some or all of a building or campus.
5. E2Campus uAlert system
The e2Campus uAlert empowers campuses to immediately communicate with everyone from teachers to first responders to media. The system sends alerts via text and voice message, email, social media post and even PA and digital signage. The cloud-based system is intuitive enough for non-technical staffers to deploy and install.
To get reliable information about technology, installation, and maintenance to include in your school safety grant, contact Chicago Communications today!