Your legacy workforce management system probably isn't just one system – it's a series of disparate solutions that don't talk to each other, don't offer real-time updates and, worse yet, actually make it more difficult for staff across your office, plant or warehouse to communicate.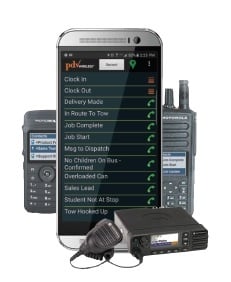 If you've just been putting up with your workforce management system's shortcomings or haven't shopped around for a while, you may not realize how stuck in the past your plant or office operations have become or what new, economic options are available.
To help decide whether you could use an update, here are 5 signs of an outdated workforce management system.

1. Failure to Communicate
Let's start with communications, which are the foundation of any successful operation. If workers, managers and dispatchers can't seamlessly communicate, it slows everything down, costing worker time, efficiency and productivity.
If your workforce management system doesn't enable instant communications, it hasn't kept up with current trends. Two-way radios, paired with the appropriate accessories and applications, can play a key role in updating your workforce management approach.
Platforms such as Motorola's WAVE Work Group Communications allow workers with radios to immediately connect via push-to-talk (PTT) with smart phones, laptops, tablets, and landlines. And the right wide area network application can allow those connections regardless of distance, literally with the push of a button.
Two-way radios are built with business in mind, meaning they deliver superior reliability, durability and clarity than smartphones. Digital two-way radios, in particular, have better battery life and coverage, as well as access to next-generation features. Using radios is also less expensive than smartphones.
2. No Real-time Tracking
If your workforce management system doesn't offer a way to track people or products in real time, that's another sign that it's behind the times. GPS tracking tools and push-to-talk technology are just two of the options currently available to help pinpoint a worker's location.
3. Lack of Integration
If your system is housed across multiple platforms that don't communicate well with each other, that's another clear sign that it's outdated.
Even if you can't find one workforce management system that meets all of your business requirements, there are many solutions available that act as a central hub to bring all of the data stored across your disparate systems together. Making data from different departments available in the same place means every decision maker has access to the same information at the same time.
4. Updates Aren't Easy
If it takes a Herculean effort or a full operations shutdown to update your workforce management system, it likely has outlived its lifespan. Today, updates can be wirelessly pushed to devices or machines without interruption and without long waits.
5. "What Does That Say?"
If workers are still left to decipher one another's handwriting to access important information, it's time to upgrade. Automated forms and text messaging capabilities in your workforce management system can erase the ambiguity of handwritten notes or work orders.
Automated forms done on wireless devices can also be instantly transmitted and assigned, cutting down on paperwork and speeding up the process.
For help selecting, installing, and servicing the perfect system for your workforce, contact Chicago Communications today!