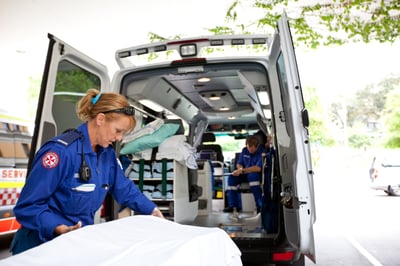 Hospitals present a unique set of security challenges. Spaces must feel safe and welcoming for patients and visitors while also offering privacy to those who have been admitted. Both patient and employee wings must maintain strict security while complying with rigid codes of confidentiality and conduct.
So how can you maximize the day‑to‑day benefits and risk mitigation functions of your hospital security cameras?
1. Stay up to date on technology
It's easy to forget about upgrading equipment and cameras when there have been no recent security breaches, undesirable visitors, or assaults on staff and patients. But waiting until you need a high‑resolution image of a troublesome individual to invest in new cameras can hamper investigations or make it difficult to know who to watch out for in the future.
Myron Love, director of security services at Ann and Robert H. Lurie Children's Hospital of Chicago, emphasized this in a 2019 article in Security Magazine. "Do your count on the number of cameras you have, but look at how many of those cameras are actually functional or allow investigators to do their job effectively," he said.
2. Place hospital cameras strategically
Unfortunately, hospital budgets cannot always accommodate a complete switch to the newest cutting‑edge equipment. That's why it's important to strategically arrange existing cameras to first protect patients and staff, then secure technology and equipment.

In many hospitals, the emergency department represents one of the areas with the steadiest stream of high‑risk traffic. New patients in various states of awareness, composure, or even inebriation can arrive at any time of day or night.
Waiting rooms can also be a setting for congestion, altercations between family members, or risky behaviors due to heightened emotions.

Make sure high traffic, high risk areas are fully covered by cameras with high search functions and remote access at all times.
3. Consider a cloud‑supported system
A 2017 study on improving patient safety in hospitals explored the benefits of cloud‑based security solutions versus on‑site camera systems. The study covered everything from fall detection software to ICU patient monitoring.
Researchers concluded that safety improves when in‑hospital staff can "focus more on treating health issues rather than keeping a watchful eye on potential incidents."
While an in‑house security team is essential for busy healthcare systems, cloud‑supported systems boost risk mitigation capabilities so staff members can focus on responding quickly to day‑to‑day incidents. Not only that—cloud‑supported camera systems maintain high image quality while reducing storage and bandwidth needs.
4. Proactively streamline communications
While it might not seem like hospital cameras offer much in the way of communication, they can augment your ability to communicate effectively with law enforcement or insurance companies in the event of a security breach. Video cameras capture footage and images that can later be used as invaluable evidence.
Your hospital's camera network is just one part of a great secure communications system. Have a communications plan in place before it's needed. Two‑way radios, cameras, and cybersecurity systems can work together to ensure security, safety, and swift communications between hospital staff and law enforcement officers.
Strategically placed hospital cameras used in tandem with cloud‑based security and a clear emergency communications plan can keep hospital staff, patients, and equipment safe. To learn more about reducing risk and improving hospital guest satisfaction, download the Healthcare Survey Report.