As a surveillance tool, the 360 degree video camera is hard to beat for its sweeping coverage of nearly every angle of a wide area, and now the technology is poised to take other spheres by storm, from consumer electronics to social media.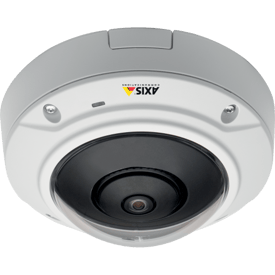 Axis network cameras are some of the most impressive on the surveillance camera market, offering 360 degree views when mounted on a ceiling and panoramic coverage when placed on a wall. The Axis cameras will connect to any IP network, including the internet, and allow for remote, real-time viewing and recording from anywhere. For enhanced surveillance, those features and others – including motion and audio detection – make Axis the gold standard for everything from retail settings to schools.

Now, as 360 degree video camera technology evolves, becoming more sophisticated and less expensive, it's moved into the consumer and social media arenas. For both surveillance and consumer-focused purposes, the appeal of 360 degree video cameras is the same: wide-ranging and unparalleled coverage that's the next best thing to being there.

Traditional video camera companies, smartphone manufacturers and a new crop of innovators are all producing 360 degree video cameras at price points attractive to today's gadget-hungry consumers. The devices are intuitive enough to be accessible for casual users and offer more complex companion software to excite photography buffs. At least one popular device has just one button for users to push to capture 360 degree video or still images.

And 360 degree video footage isn't just getting easier to shoot, it's easy to watch. Anyone with a web browser, virtual reality headset, smartphone or tablet can view 360 video. Facebook now has a 360 community, and YouTube has a growing 360 degree Videos Channel.

Entertainment and news media companies are using 360 degree video to give viewers so-called immersive experiences into everything from Martha Stewart's test kitchen to the floors of the recent political conventions to the Rio Olympics. Weather forecasters and storm chasers are also getting in on the act, using the cameras for dramatic coverage of severe weather.

Consumers are using the cameras to virtually bring their social media followers on vacations and extreme sports with them, from aquatic adventures to zip-lining.

Just recently, Facebook made available for free the blueprints for the Surround 360, its stereoscopic camera. The Surround 360 has 17 different lenses, including 14 that form a ring around the device and fish-eye lenses on the top and bottom. The blueprint release includes assembly instructions, control software and designs, including the code that stitches the camera's separate images into a single 360 degree whole.

The social media giant has said it wants to encourage other developers to take the technology a step further and get closer to the day when 360 degree video sharing is available not just for recorded video but for its live feed function as well.

Only time will tell whether 360 video cameras are a fad or the future of photography, storytelling and social media, but there's still a chance to be on the cutting edge either way.

To get a free estimate on the best video surveillance solution for your company or agency, click here.