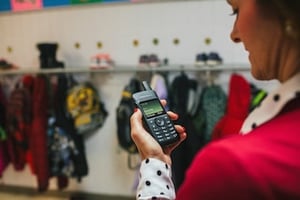 Who better to provide inspirational quotes for school administrators than educators themselves?
The teachers, professors, administrators, researchers, activists and innovators below have each changed the world in their own way and continue to leave behind big ideas we can all strive to live by. We've even thrown in a wizard for good measure.
Culled from Ancient Greece to modern-day Texas, here are 30 inspirational quotes for school administrators from luminaries in the field.
On the Function of Education
Aristotle, ancient Greek philosopher and scientist: "Educating the mind without educating the heart is no education at all."
George Washington Carver, botanist and inventor: "Education is the key to unlock the golden door of freedom."

Helen Keller, author, political activist, and lecturer: "The highest result of education is tolerance."

Anne Sullivan, instructor and lifelong companion of Helen Keller: "Children require guidance and sympathy far more than instruction."
W. E. B. Du Bois, American civil rights activist and sociologist: "Education is that whole system of human training within and without the school house walls, which molds and develops men."
Arne Duncan, former U.S. Secretary of Education: "Even in a time of fiscal austerity, education is more than just an expense."
On Knowledge as Power
Barack Obama, 44th President of the United States: "In a global economy where the most valuable skill you can sell is your knowledge, a good education is no longer just a pathway to opportunity – it is a prerequisite."
Henry Louis Gates, Jr., historian and filmmaker: "The first step toward tolerance is respect and the first step toward respect is knowledge."
Confucius, teacher and philosopher: "Real knowledge is to know the extent of one's ignorance."
On Encouraging Excellence
Booker T. Washington, author and advisor to U.S. presidents: "Excellence is to do a common thing in an uncommon way."
Aristotle: "Excellence is an art won by training and habituation. We do not act rightly because we have virtue or excellence, but we rather have those because we have acted rightly. We are what we repeatedly do. Excellence, then, is not an act but a habit."
Barack Obama: "We need to internalize this idea of excellence. Not many folks spend a lot of time trying to be excellent."
On Leadership
Brene Brown, author and researcher: "To me, a leader is someone who holds her- or himself accountable for finding potential in people and processes."
Cornel West, philosopher and author: "You can't lead the people if you don't love the people. You can't save the people if you don't serve the people."
Albert Einstein, German-born theoretical physicist: "We cannot solve our problems with the same thinking we used when we created them."
Elena Kagan, Associate Justice of the Supreme Court of the United States: "I've led a school whose faculty and students examine and discuss and debate every aspect of our law and legal system. And what I've learned most is that no one has a monopoly on truth or wisdom. I've learned that we make progress by listening to each other, across every apparent political or ideological divide."
Laura Ingalls Wilder, author of the "Little House on the Prairie" series: "The trouble with organizing a thing is that pretty soon folks get to paying more attention to the organization than to what they're organized for."
On Teaching
Albert Einstein: "If you can't explain it simply, you don't understand it well enough."
Chris Dede, education researcher and innovator: "There is no single best way to teach because there is no single best way to learn."
Septima Poinsette Clark, civil rights activist: "I believe unconditionally in the ability of people to respond when they are told the truth. We need to be taught to study rather than believe, to inquire rather than to affirm."
Maya Angelou, poet and civil rights activist: "I've learned that people will forget what you said, people will forget what you did, but people will never forget how you made them feel."
Maria Montessori, Italian physician best known for the education philosophy that bears her name: "One test of the correctness of educational procedure is the happiness of the child."
Jaime Escalante, calculus teacher whose life inspired the film "Stand and Deliver": "If we expect kids to be losers they will be losers; if we expect them to be winners they will be winners. They rise, or fall, to the level of the expectations of those around them, especially their parents and their teachers."
Mary McLeod Bethune, civil rights activist and co-founder of Bethune-Cookman University: "We have a powerful potential in our youth, and we must have the courage to change old ideas and practices so that we may direct their power toward good ends."
Dorothy Height, civil rights and women's rights activist: "You never teach a subject, you always teach a child. You teach children in a way that they will learn, and then things will fall in place for them."
On Intelligence
Stephen Hawking, physicist and author: "Intelligence is the ability to adapt to change."
Temple Grandin, animal science and autism education expert: "The world needs all types of minds."
Albert Einstein: "The true sign of intelligence is not knowledge but imagination."
On the Importance of Play
Fred Rogers, host of "Mister Rogers Neighborhood,": "Play is often talked about as if it were a relief from serious learning. But for children play is serious learning. Play is really the work of childhood."
On Death
Albus Dumbledore, headmaster of Hogwarts: "To the well-organized mind, death is but the next great adventure."
To get good advice on your school's communications solution, make sure to work with two-way radio service providers who specialize in education.