Nextel's Network has been Decommissioned. What's Next?
A common concern we expect to hear would be: "So now that Nextel has shut down, what do I do with my trucks? The cell phone bills will kill me!!"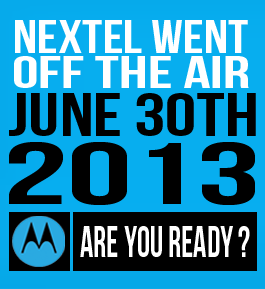 For those of you not in the know, Nextel shut down its operations at the end of last month. Sprint will be converting many of the current Nextel users to their Sprint network, while many will be left thinking, "I really don't want to put cell phones in the hands of my truck drivers!"
So,
Now what?!
The answer to that first depends on the coverage required to run your operations. Is it local to a town or County? Is it regional like Chicago? Is it area wide like Chicago and the surrounding collar counties or is it statewide? For all of those answers you have options. As you know you have the Cellular carrier. For those as fortunate you get a cell phone on the Sprint system or another, but your drivers are allowed to communicate ONLY when NOT operating the vehicle.
Federal Department of Transportation indicates: "The final rule prohibits commercial drivers from using a hand-held mobile telephone while operating a commercial truck or bus. Drivers who violate the restriction will face federal civil penalties of up to $2,750 for each offense and disqualification from operating a commercial motor vehicle for multiple offenses. Additionally, states will suspend a driver's commercial driver's license (CDL) after two or more serious traffic violations. Commercial truck and bus companies that allow their drivers to use hand-held cell phones while driving will face a maximum penalty of $11,000. Approximately four million commercial drivers would be affected by this final rule".
For those of you who think radio is archaic, think again. Motorola came out with the MOTOTRBO system a few years ago and has been making sequential improvements every year since. This radio platform not only communicates as a radio system ("Push to Talk and Release to Listen"), but it also allows for dispatching, GPS location, Man Down alarms, and Status Alarms for the transportation industry. And if you're thinking, "why would that help me?" We're glad you asked.
You operate a regional trucking business for short haul. Daily you get dispatched to pick up and deliver various items here and there. The radio system will allow for GPS tracking of the vehicle to insure you have the closest route chosen, and you can communicate one to one or one to many to reach the nearest truck.
GPS as indicated above allows for operations to track speed, duration, distance and geo-fencing. Geo-fencing allows you to draw on a computer map a ring or polygon to notify you when a driver has exceeded the boundaries. Monitoring trucks is crucial to insuring they stay on the correct course or route and minimize deviations that could create added fuel consumption and time. To further explain, what if you had the opportunity to watch your child's school bus? With MOTOTRBO and an Application from NeoTerra, the bus GPS information can be placed on the web to track the location of your student from the time they leave to the time they get to their stop.
Cement contractors require deliveries with relatively short distances as the concrete can start to harden as the dive time gets too long. With MOTOTRBO and status messaging, you can track the delivery with GPS, you can log the time when the driver arrives on site, dumps the load and returns back to the yard. Instant notification allows for real time billing. Applications written for MOTOTRBO allow for just such status messaging.
All of these solutions have radio systems attached. Whether you own the channel(s) or pay a monthly airtime fee for usage, these systems are ready to go to work for you today. For a further explanation, check out this video starring John Jaderholm!

This article was posted by Jill McNamara, Internet Marketing Coordinator at Chicago Communications. Jill has written all of the Meet Our Techs & Employee Spotlight articles for ChiComm's blog and continues to seek opportunities for similar articles. If you'd like to submit a suggestion for the blog, Contact Us!