As the end of the year approaches, how you spend your technology budget can impact not only your current communications operations, it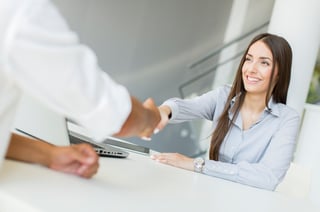 can affect how much money is allocated to you next year. If you don't use all of that money wisely this year, you likely won't get an increase – or even as much – next year.
To preserve your technology budget and your ability to serve your organization, you need to make investments that show you've improved communications and overall efficiency. Fortunately, there are some great solutions available that serve a variety of wireless communications needs.
Here are three savvy ways to spend your end-of-year technology budget.
1. Trade in Your Analog Two-Way Radios and Upgrade to Digital
Your trusty analog radios have gotten you this far, and chances are they're an integral part of your overall communications strategy. But as your staff grows, technology advances and demands evolve, your analog radios may be holding you back.
Digital two-way radios not only have better audio quality and capacity, they deliver double the battery life and unmatched coverage. They also bring next-generation features such as integrated GPS, text messaging, text-to-speech capabilities, Bluetooth and more data to allow for access to more applications.
With your end-of-year needs in mind, there are generous trade-in offers available for the rest of the year for many Motorola radios – and repeaters – in particular. Upgrades have never been easier.
2. Invest in a Wide Area Radio Network
As ChiComm Account Executive Todd Niccum can attest, clients across a broad range of industries have been thrilled with DispatchPlus, our wide area network application for MotoTrbo radios.
At $30 a month, the application is far more cost-effective than smartphones and has features and functionality that prove why radios are better than cell phones. It's a relatively small investment that can have a big impact on your ability to immediately and seamless communicate, locate drivers and expand your coverage area.
DispatchPlus is a cloud-based work management solution that enhances the power of MotoTrbo radios with a user-friendly web interface and features that clients say have transformed the way they keep in touch. The private address book feature allows private calls between MotoTrbo users and Motorola's Wave Mobile Communicator. And the new integration with smart phones and tablets offers even wider coverage capabilities – without the need for more devices.
3. Get an Audit of Your Existing Wireless Networks or Systems
Even if things appear to be running smoothly, it never hurts to have a professional assessment of your wireless networks, systems or signal boosters to ensure they're as efficient and updated as possible.
A full-service wireless communications retailer will have experienced technicians available who can audit the effectiveness of your current set-up, such as the number and placement of wireless access points and bi-directional amplifier antennas.
Using your end-of-year technology budget for preventive maintenance shows that you're thinking ahead and that you've got a comprehensive approach to communications.
To meet your needs for state-of-the-art wireless communications technology, contact Chicago Communications today!