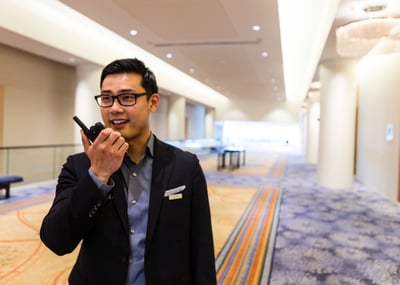 Even as smartphones get smarter and more sophisticated, two-way radios still reign as the best internal communication tools across any number of industries and workplaces.
Whether staff are communicating from the ER to security, from the front desk to facilities, or from one end of a warehouse to the other, radios are the most convenient, durable and reliable option, not to mention the most cost effective option for interdepartmental communications.
If you're still relying on cell phones to communicate or are unhappy with your current solution, keep reading to discover the three reasons that make two-way radios the best internal communication tools.
Colleagues are a Button Push Away
Thanks to Push-to-Talk (PTT) technology, two-way radios provide workers and staff members with a reliable way to clearly and quickly deliver or receive information literally at the push of a button.
Being a button push away from communicating with colleagues vs. having to dial or remember phone numbers, makes working more convenient and efficient. Push-to-talk is enabled for one-to-one or one-to-many conversations, another capability that cell phones just can't match.
When it comes to workflow management, the immediacy of PTT allows supervisors to assign and follow up on tasks and permits workers to request and receive assistance within minutes. Streamlining communications is another aspect that makes everything work more efficiently.
Radios Ensure Rugged Reliability
The rugged design and highly efficient technology backing two-way radios is easy to use, making it a great option to streamline site-wide communication. Implementing radio usage will require minimal maintenance, allowing productivity to thrive over the years – both now and into the future.
Unlike consumer cell phones that are obsolete almost as soon as they're purchased, two-way radio solutions are built to stand the test of time and scale as your business does.
Digital radios also allow for greater coverage with exceptional reception. To ensure that your building or facility is optimized to support your new form of two-way communications, consider installing a bi-directional amplifier or BDA, for improved coverage and stronger signals throughout your work space.
BDAs are part of a distributed antenna system, or DAS. This guarantees radio users the ability to have a stable and reliable connection they can use without issues, and as frequently as needed.
A distributed antenna system is made up of a network of indoor and outdoor antennas. Along with bi-directional amplifiers, those antennas amplify the strength of radio and commercial carrier signals and frequencies for more reliable in-building coverage.
Distance Doesn't Matter
Whether your teams or departments need to communicate across the hallway or across the country, there is a radio solution that will meet your needs.
Digital two-way radio applications and accessories aren't just for short-range conversations. Products such as Motorola's WAVE Work Group Communications and the wide area network DispatchPlus by pdvWireless maximize the reach of radios, even when workers are on the go.
WAVE Work Group Communications enables PTT for any device, including smartphones, tablets, landlines, laptops and even desktop computers. If you aren't yet ready to supply radios to an entire workforce, colleagues can keep in touch no matter what kind of communications equipment they're using.
DispatchPlus is a wide area network with a user-friendly web interface that, among other capabilities, gives dispatchers real-time information on drivers' current location and communications.
Internal Communications Are Covered
Customers who invest in these best internal communications tools are able to rapidly see a positive change in their workplace dynamic and their business' bottom line.
Having two-way radios available for your staff helps internal communication, making workplaces more productive than ever. Improved efficiency is key to productivity and a great way to enhance both is through strong and stable communication practices.