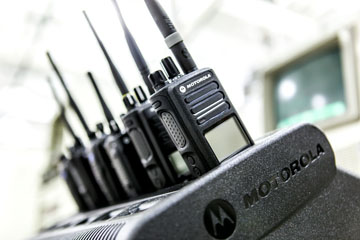 Battery capacity naturally decreases slowly over time, but here are 10 tips for Battery Storage, Handling and Care.
Do not store batteries with flammable materials.

Remove battery from radio to eliminate radio as a source of additional current drain. Do not replace the battery in any area labeled "Hazardous Atmosphere".

Store batteries in a well ventilated, temperature (68°F/20°C to 86°F/30°C) and humidity (30%-60%) controlled environment.

Optimal battery storage condition is 30%-50% charge state. New batteries should be stored as delivered from Motorola Solutions. Used batteries should be charged or discharged to approx 50%.

Batteries removed from storage may take several charge / discharge cycles to achieve their optimal capacity. One or two reconditioning cycles will accelerate capacity recovery.

Use the battery in accordance with its water and dust Ingress Protection (IP) rating.

Don't disassemble, crush, puncture, shred, or otherwise change the form of your battery. Don't discard your battery in a fire.

Don't dry a wet battery with an appliance or heat source, such as a hair dryer or microwave oven. If the radio battery contacts are wet, dry the battery contacts before attaching the battery to the radio.

Exercise care in handling any charged battery, particularly when placing it inside a pocket, purse, or other container with metal objects such as jewelry, keys or coins.

For IMPRES batteries, the first battery charge should take place in an IMPRES desktop (not vehicular) charger for proper initialization of IMPRES data in battery memory. Allow the battery to be fully charged through a solid green LED charger status indication.
Chicago Communications is always here for any of your two-way radio battery needs.