Wide area networks enabled by applications like PDV's DispatchPlus have gotten even wider coverage capabilities – without the need for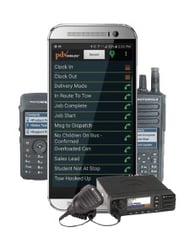 more devices – through integration with smart phones and tablets.
ChiComm Account Executive Todd Niccum says the new feature is particularly a hit with company owners and managers who are already juggling multiple handhelds, including their personal cell phones, business cell phones, tablets and laptops.
"Another device wasn't what they were looking for," Niccum said.
'Priceless' Integration
The integration with smart phones and tablets means that multiple groups of users, such as managers, dispatchers and drivers, can connect through DispatchPlus from phones to radios and even from phones to phones.
Niccum says that for owners, being able to instantly locate drivers from the palm of their hand "was priceless."
DispatchPlus is a cloud-based work management solution developed and brought to market by pdvWireless, whose chairman and vice chairman are co-founders of Nextel Communications. The application enhances the power of MotoTrbo radios, and now beyond, with a user-friendly web interface that provides real-time information on drivers' current location, route and communications.
Not Just for Drivers and Dispatchers
Niccum says clients "across the board" have been interested in the smartphone integration, not just those who have a dispatch-based business. Manufacturing companies and warehouses have also been taking advantage of the feature, which will now work off of wi-fi, radio or cell service.
The coverage is also nationwide, giving an owner on vacation in Florida, for instance, the ability to instantly communicate with one or multiple staff members in Chicago as if they were right next door.
No Need for Installation
For companies that are interested in the feature, Niccum says he "can have this in your hands in five minutes." Setup is immediate, and there are no installation costs. Mangers also have the ability to seamlessly customize what users or talk groups can communicate with each other.
More Cost Effective than Cell Phones
One of the many strengths of the DispatchPlus solution is its cost-effectiveness, and the new integration is included in the flat $30 a month fee, much less than the cost of a cell phone plan.
Users can now bring their personal devices – which Niccum notes they tend to take better care of – and receive a stipend to cover business costs. With the application, many workers will have everything they need for work on their personal phones.
DispatchPlus is Solving a Range of Business Issues
In general, the DispatchPlus application has been well-received because of its ability to expand coverage areas and solve business issues, Niccum says.
One interesting use case has been two truck drivers, who use their phones to take photos of any damage to vehicles before they tow them, complete with GPS location and time stamps. It's a creative way to provide instant proof to insurance companies about the condition of a vehicle before a tow.
To learn more about creating and maintaining a successful wide-area network, contact Chicago Communications to set up a free consultation.