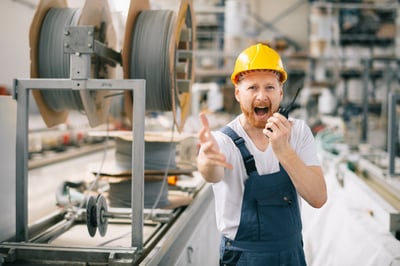 Whether you're supervising the manufacturing line or the bus lane, at a medical site or a construction site, you need your two‑way radio to operate continuously. Reliability is key.
Your radio can't stop when it's dropped, break when it's shaken, fail when it's shocked by static electricity, or lose power when the temperature drops.
So, what do you do when even your high‑quality two‑way radio struggles to last a whole shift? In many cases, a problem with your two‑way radio means one thing: It's time to check your battery dates.
A Case of Aging Radio Batteries
Recently, one of our customers—a college campus in Chicago—noticed persistent issues with their fleet of two‑way radios. Eight out of 20 radios weren't working properly. Sometimes the radio batteries weren't holding a full charge. Other times, communications sounded scratchy or barely audible.
When two‑way radios are used by a variety of employees, it can take time for organization administrators to realize there's a problem. The college's wake‑up call came one day when a maintenance worker got stuck in a freight elevator. When he tried to radio for help, no one could hear him.
Later, once the employee was back on solid ground, the customer tested the two‑way radio with new batteries. The result? Crystal‑clear audio. This confirmed a battery issue. The next step was pulling out all the two‑way radio batteries to check their age. They were shocked to find out that most of their fleet had batteries from 2017 and 2015—well past the 24‑month recommended expiration!
Steps to diagnose two‑way radio problems
ChiComm receives many two‑way radio service calls. The same maintenance issues—such as battery replacement—arise over and over. Though sometimes professional assistance is needed, you can sometimes diagnose and troubleshoot problems on‑site.
Provide your staff with a list of things to check when their two‑way radios aren't working properly. For instance:
Is the radio turned on?
Are you on the same channel or talk group as the radios you're trying to reach?
Are the battery and antenna both attached snugly to the radio?
Does the radio have obvious signs of physical damage?
Do the volume and channel selector knobs seem loose? If so, the radio's top buttons could be broken internally.
Does changing the battery resolve the issue?
If all else fails, talk to your communications equipment provider about a service evaluation.
Signs of aging two‑way radio batteries
As a battery nears the end of its life, you'll notice a few things:
Two‑way radio batteries need to be charged more frequently
The battery LED turns yellow or red
Two‑way radio batteries don't charge as quickly as they used to
Your two‑way radio range seems smaller than before
The battery warranty on most Motorola batteries is two years. Batteries often last longer, but performance can steadily decline past the 18‑month mark.
Checking Motorola's two‑way radio batteries is simple.
Pull the battery from the two‑way radio.

Make note of the 4‑digit date code on the front of the battery. The first two digits represent the year (18 for 2018, for example). The last two digits represent the week of the year. Thus, "2010" indicates the tenth week of 2020, not the year 2010.

If your battery is more than two years old, order a replacement to avoid communication issues.
Think of your two‑way radio batteries like smoke detectors. Check them periodically and replace them when necessary. There's never a good time to lose the ability to send or receive vital information.