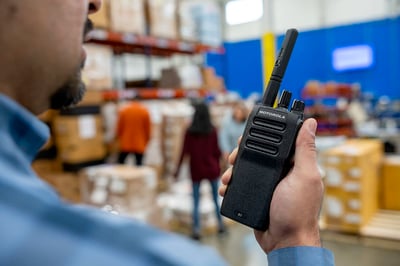 Between stretched budgets and supply chain delays, purchasing the cheapest, most quickly available communications technology you can find is tempting. But when you find unbelievable prices and shipping timelines, there's probably a reason it seems too good to be true. In many cases, it means you're receiving old, faulty equipment without any warranty.
Working with established, reputable suppliers is important whether you're getting new or aftermarket products. One way to be sure your investment won't end up costing more in the long run is to purchase authorized Motorola products. Here's why:
Quality of Products
When you purchase authorized Motorola products, you can be sure you're getting what is advertised, that it is new, and that it should work as promised. But if you buy, for example, a set of unauthorized batteries that seem compatible with your two-way radio devices, you may end up with batteries that are old, won't hold a charge, or aren't actually compatible with the chargers or radios you already own.
Oftentimes, if you see something for sale that's available far more quickly than elsewhere, it's because they're sourcing old, rather than new devices. If authorized Motorola two-way radio service providers estimate a longer delivery window, it's because they are getting the genuine product from the factory.
Compatibility
Sticking to authorized Motorola products means that any new devices are compatible with older versions. There are occasional exceptions to this, and a reputable salesperson will guide you to what will work. Unauthorized products might not integrate with existing systems, or they might interfere with functionality.
Warranties
No matter where you get it or how much homework you do, sometimes you receive a faulty product. You're automatically given a one- to two-year warranty when you purchase authorized Motorola products. This means you can either replace the full device or send it back to have any specific issues fixed.
Sometimes, a new accessory causes an entire device to become defective. If that happens, Motorola can honor its warranty on both products if both are authorized products. But if you purchase faulty accessories that aren't protected, the primary device won't be covered.
Expert Product Support
ChiComm is proud to be an authorized Motorola retailer and two-way radio service provider. When you work with us, we offer years of experience with Motorola products and services.
The Human Factor
When you work with ChiComm, you have direct contact with actual people whose names and faces you may come to know. You don't have to email or call an anonymous helpline and hope for the best when you have questions. We're not interested in just selling you a product. We understand your work's importance, and we focus on building relationships to help you grow. That might mean helping you find a way to maximize the value of tools you already have while waiting for a delayed shipment. Or it could mean saving you valuable time when you're looking for an upgrade by presenting you with options we already know will work.
An Existing Relationship with Motorola
We strive to answer any questions you have before or after making a purchase, and if we can't, our long-term relationship with Motorola means we will find an answer for you. If you're not sure about our recommendations, we are happy to connect you with an expert at Motorola to provide a second opinion.
Shared Expertise
It's not always clear what accessories will connect with your existing technology or if you need a whole new setup. We can help you read the codes on your devices so you can understand where and when they were made, what batteries and accessories they're compatible with, and approximately how long they'll work.
Unfortunately, time and again we've had customers come to us because they've purchased radios or batteries cheaply online that wreak havoc on their whole communications system. We can help in these situations, but everyone prefers avoiding the problem, and the resulting costs, in the first place.