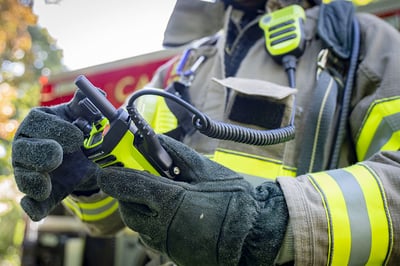 We depend on firefighters to do their jobs under the most dangerous conditions imaginable, and firefighters depend on their communication equipment to help them do it. Firefighter radios must perform reliably in all environments and stand up to rough handling in life-or-death scenarios.
When purchasing two-way digital radios to support this critical work, investing in the right product for your department's needs is essential. Here are some key questions to consider when shopping for the devices that help firefighters keep our communities safe:
Durability
Firefighters work in extreme conditions: in burning heat or bitter cold, at high elevations and deep underground, surrounded by smoke, or submerged in water.
Here are aspects of durability to consider:
Submersibility: How long can the radio be exposed to water, and at what depths?

Temperature: What range of temperatures can the equipment withstand? Can it handle moving immediately from a freezing environment into a fire?

Breakability: Has it been tested after being dropped from specific heights, and can it withstand dings and bumps daily? Are there backup features in case something breaks in the field?

Hardware: Is the antenna flexible in every direction? Will knobs and buttons stay connected to the body of the device? Are these pieces easily replaceable when they wear out?
Ease of Use
Firefighters must react in real-time to rapidly changing conditions; they don't have time to fidget with equipment to get it to work. Radios must also be usable by firefighters wearing bulky protective gear, like gloves and face masks, and in dark or smoky environments.
Here's what to look for:
Shape: Can the device be held easily? A T-shape is most reliable: easy to grip with thick gloves and wet or slippery hands.
Long-Lasting Batteries: How long do batteries take to charge, and how long do they last? How easily can backup batteries be carried and changed in the field?
Voice Confirmation: When visibility is low, can users get audio confirmation of settings like zone, channel, and volume?
Haptics: Does the radio have tactile feedback, like vibrations that indicate a channel, when it's hard to hear or see? Are different knobs and buttons easy to adjust and identify by feel?


Clear Sound
Background noise is one of the many communications challenges firefighters face. Sirens, water pumps, high winds, and other voices are just a few examples of the loud sounds an excellent two-way radio system must address. It's important that dispatch centers and others in the field can hear with crystal clarity to respond adequately to ongoing situations.
Not every radio system will provide quality audio on both ends in these situations. Audio features to look for when purchasing devices for your team include:
Noise Suppression: Does the radio have top-of-the-line noise cancellation that adjusts quickly as users move through environments?

Windporting: Are microphones set up to cancel wind noise?

Dual-Sided Operation: Can users speak on either side of the radio at any time?
Distance and Connectivity
Firefighters work in communities of all sizes and collaborate with other first responders. It's important that the two-way radio system a fire department has works everywhere their team does and that it can connect with the police, EMTs, and other public safety providers in the area.
This is what to look for in the best integrated and expansive two-way radio systems:
Range: At what distances and elevations do the two-way radios work?

Available Channels: Do the radios work on legacy analog and updated digital systems? Do they connect with statewide communications networks, like STARCOM21 in Illinois? Is LTE (used by cell phones and available almost everywhere) or broadband offered as a backup connection? Is it easy or automatic to switch between systems?

Interdepartmental Connections: Will this system integrate seamlessly with whatever other city- and statewide agencies your department works with? Will the radio systems, if necessary, work across state lines?
Customization
No two fire departments have exactly the same needs, so no radio communications systems should be one-size-fits-all. It's important to purchase a system that meets regulations and is adaptable to your specific needs and to receive expert support in setting it up.
When you work with ChiComm to find the right two-way firefighter radios, you have access to expertise to help get your system up and running with the right specifications. We can recommend which of our top-of-line Motorola products is the best fit for your department, making suggestions based on the features above and more. Our team is also an expert in understanding the state, federal, or international standards your devices must meet. We work with you to program the devices to work reliably, to connect with relevant organizations, and to be intuitive for your firefighters.
We're proud to offer Motorola Solutions, which works hard to create the ultimate "Connected Firefighter" with wearable technology to track a firefighter's location, vital signs, and tank oxygen levels. Dispatch centers that use Motorola's wireless technology will also be able to send critical information to firefighters while they're in the field, including building blueprints, location of hydrants, and street camera footage.
No matter what you're looking for, we have options that will work for your department. Our Public Safety Communication Checklist is a great place to learn how two-way radios can integrate into your wider communications system.