Getting the right information to the right person at the right time can mean the difference between a returning guest and a dissatisfied customer; that's why guest satisfaction is at the top of the priority list for any organization in the Hospitality sector. Rapid response, attention to detail and well-informed staff are key to ensuring the experience is memorable for all the right reasons.
Hotel staff often uses a variety of disjointed independent communication tools such as cell phones, pagers, WiFi phones, paper work tickets and email to stay on top of customer requests. Large facilities and remote areas result in poor coverage, missed notifications and delayed responses to guest requests when it matters most. Furthermore recurring monthly fees and a constant desire to reduce operational expenses has pushed more and more hotels to explore the benefits of two-way radios.
Guaranteed coverage on a private network, durable portable devices, and integration to current building infrastructure systems and guest management systems via data applications make Motorola's MOTOTRBO an excellent option for hotels of all sizes.
Going one step further with your two-way radio network.
Teldio, a premier two-way radio applications developer, has recognized that with the push towards digital, organizations can get much more from their radio networks than ever before. The Certified Motorola applications developer provides solutions that improve communication amongst workers, enhance building infrastructure monitoring and ultimately improve guest satisfaction, all while decreasing operational costs. Their suite of software applications includes: two-way radio telephony, work order management, alarm notification, worker safety and indoor/outdoor positioning apps. Here's a quick two minute video that summarizes Teldio's offerings.
Here are a few examples of how voice and data apps can help your organization:
Increase efficiency by generating work tickets and sending them directly to mobile workers on their two-way radios.
zapMail for MOTOTRBO is a simple email gateway for digital two-way radios designed to allow radio handsets to send and receive emails. The app can be configured to integrate with any common hospitality management system such as HotSOS, Guestware or Synergy MMS. This allows administrators and supervisors to automatically send job tickets to workers on their MOTOTRBO radios. Hotel staff is able to access work tickets on their handsets which can be tracked and closed once the job is completed.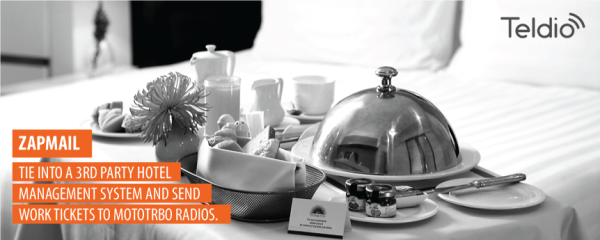 Decrease operational costs and downtime by automatically receiving notifications on two-way radio handsets from fire alarms, security alarms, HVAC systems, elevators and more.
ACS, an intelligent alarm management and notification system, significantly reduces the difficulty of assigning new tasks of varying importance to employees throughout the property. It empowers mobile devices such as MOTOTRBO™ radios by automatically sending task and alarm notifications to the appropriate user handset. New tasks are created from the web-based interface and automatically sent to the correct individual, based on time of day and worker competency. When received, tasks and alarms are converted into work tickets allowing them to be accepted, rejected or closed directly from the radio
Their progression status will automatically be tracked allowing administrators to create customized reports. In doing this, you can be sure that guest requests as well as day-to-day operations will be taken care of in a timely manner and help you maintain the highest level of guest satisfaction.
Enhance overall communication by connecting telephones to your two-way radio
network.
Teldio's RBX +Plus application compliments the functionality provided by ACS & zapMail by enabling communication between MOTOTRBO radios and corporate phone networks (PBX). It allows mobile workers to make and receive private radio-to-phone calls as well as receive incoming group calls. Supervisors, managers and hotel guests can reach entire work teams such as Housekeeping or Maintenance directly on their radios simply by dialling their department extension.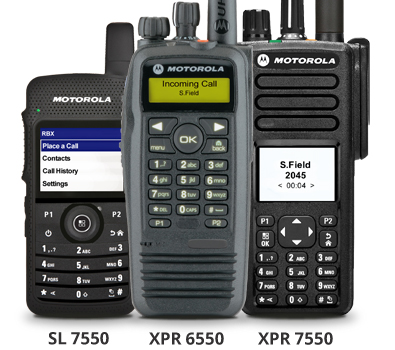 Another key feature of the RBX is extension twining; it allows you to match an existing desk phone extension to a MOTOTRBO radio. This means that hotel staff can be anywhere on-site and never miss a phone call again. Another benefit of adding telephony capabilities to MOTOTRBO is the ability for workers to reach out if they are in distress. Employee safety is becoming an increasingly hot point in the hospitality industry and giving your employees peace of mind enables them to feel prepared for any situation.
Want to find out more about two-way radio apps for Hotels & Resorts? Watch the Teldio Hospitality Solutions video.
Create your ideal mobile communications package by bundling Teldio's apps with the best in class digital two-way radio solution! For more information on Teldio Applications and MOTOTRBO two-way radios please get in touch with Chicago Communications, your local Certified Teldio Reseller.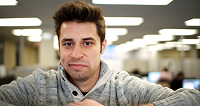 This guest blog was written by Christopher Sisto, Dire
ctor of
Marketing and Product manager for Teldio. You can contact
Christopher here for any questions related to Teldio
.
Questions regarding MotoTrbo can be directed to
ChiComm
.