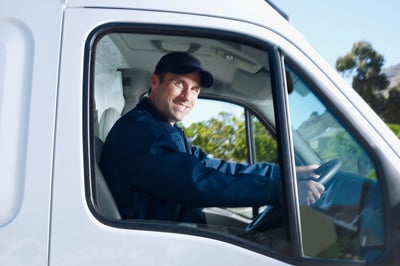 If you're a transportation manager, you know one unfortunate truth. Accidents happen. More often than not, it's not the fault of your drivers, but it does cause potential liability, and headaches, especially when it becomes a "their word over yours" situation.
The best thing you can do in those situations is to protect your team and company by making sure that any accidents can be explained with video evidence that can be used to respond to any accusations while protecting your drivers.
As a transportation manager, you can't be on the road with your drivers, but you can help keep them safe with the Motor GuardianCam.
The Motor GuardianCam is an in-cab forward-facing dashboard camera that records what your driver sees. It also has a rear-facing option that tapes what's happening in the cab with the driver. Additionally, it can be set up to record from the rear of a truck or van for a full view of its time on the road.
It's an absolutely essential tool that can save a lot of headaches, not to mention a lot of costly fees. But let's look at what makes the Motor GuardianCam one of the best in its field.
Top Features of the Motor GuardianCam
Motor GuardianCam has many products that can help your drivers to tell their side of a story and generally keep them safe (the MDR 5000 In-Car Video Camera is one especially popular and innovative option that is great for commercial vehicle operations). Its features include
Automatically Recording onto a Memory Card. Each drive will record the data from the Motor GuardianCam and save it to a memory card that can either be transferred to an office hard drive, uploaded to the cloud, or recorded over if no noticeable incidents occurred.
Multiple Viewing Angles. The Motor GuardianCam can record inside the cab to protect the driver while recording from the rear. If an incident occurs, you'll have a full picture of what happened, and why.
Expandable Third Camera. Unlike some dashboard cams, Motor GuardianCam has a third camera that can allow you to record additional areas or blind spots to give you a full range of vision.
Built-In GPS. Not only do these cams see you, they know where you are, which can help in a pinch if any other GPS functions you use have issues.
Sturdy and Tamperproof. Motor GuardianCams can withstand damage and tampering while still giving you a clear view of your surroundings.
Why Is Motor GuardianCam the Best Solution for Risk Management, Loss Prevention, and Driver Safety?
The Motor GuardianCam and its In-Car Video Camera are powerful tools. If you are a transportation manager, deal with risk management and loss prevention, or want to ensure your drivers' safety, this tool is essential. It allows for accountability and protection, and it more than pays for itself when you consider the following ways it can help you and your drivers.
Using Footage for Training. One of the most important parts of onboarding new drivers is giving them the right tools to succeed. That starts with training. With the Motor GuardianCam, you can use previous records of drivers taking the right (and wrong) approaches to situations so they can see real-life examples of what to expect and how to successfully manage difficult scenarios.
Providing Evidence in Court. If your driver, unfortunately, is involved in an accident, you've probably trained them properly and the other driver is at fault. That doesn't mean that the other driver won't try to get some sort of settlement from your business. If you have the Motor GuardianCam, you can definitively show the incident in question and likely exonerate your driver (and perhaps avoid paying a hefty sum).
Protecting Your Drivers. With the inward-facing camera, drivers can feel confident about their safety behind the wheel and know that they will be able to provide clear and highly rendered proof of every moment of their drive. Not only will this increase their comfort level, but it'll also likely make their drives less stressful and more assured.

Motor GuardianCam has a host of products that can help every driver be safe and protected behind the wheel, and we take great pride in making sure your drivers can do their essential work while empowering them to perform at their very best.