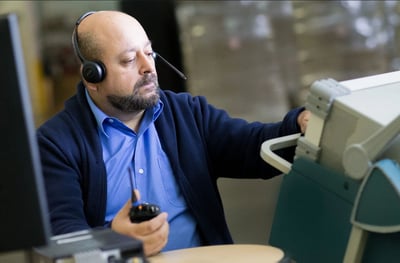 In Illinois, STARCOM21 pays off in increased public safety. STARCOM21 is a radio system that offers reliable high‑speed mobile connectivity to more than 60,000 subscribers in Illinois. In this blog, we'll discuss the system in more detail, including a case study of how one police department overcame serious safety issues by fixing coverage problems with their STARCOM21 system.
STARCOM21 provides seamless communication to public safety agencies, municipalities, and universities by replacing outdated, segregated systems. By increasing the ability to talk to each other and saving costs on infrastructure, this system is helping public safety officials conduct 911 communications wirelessly and within their budgets.
A Public/Private Partnership
STARCOM21 is a statewide voice communications network with more than 300 radio towers. It's the result of an innovative partnership between Motorola Solutions and the State of Illinois. Motorola owns the network and leases it to the state. This subscriber‑based communications system is designed to allow seamless two‑way radio communication between state, local, and federal users.
The goal is to provide fast and effective responses to emergencies.
STARCOM21 is an important part of Illinois' Statewide Communications Interoperability Plan (SCIP), a strategic plan to align emergency communications that was adopted in 2016.
STARCOM21 Features
STARCOM21 provides the following features:
240+ radio sites across the State
Zone availability of 99.999% and 95%+ mobile coverage Statewide
In‑building (8 db) coverage in select areas (Chicago area, 12 major cities)
Level 5 interoperability and customization
Project 25 compliant, 700/800 MHz, digital, trunked network
Voice encryption‑capable, hardened, secure, monitored
Disaster recovery and system restoration
​Dual‑band mobiles and portables
Dash and trunk mount mobiles
Vehicular repeaters
Desktop stations and repeaters
Consoles and stations
Technical service manuals and training
Programming packages
Open system for multi‑vendor P25 radios
The Benefit of a Statewide System
Having a statewide system allows for interoperability between agencies. That means first responders are able to communicate and share crucial information through two‑way radios.
Instead of building their own stand‑alone networks, agencies use the shared network and pay a monthly fee to be a part of STARCOM21. Motorola maintains the equipment as long as it is covered under the maintenance agreement.
The STARCOM21 system currently has more than 60,000 users representing more than 1,700 agencies, municipalities, counties, and other organizations.
Not all public safety agencies use STARCOM21. But if they choose to subscribe, they are able to share the benefits of this critical communications network with the many agencies that are using it.
Case Study: A Police Department with Coverage Concerns
Like any communications solution, STARCOM21 needs to be supported with the right setup and infrastructure locally in order to function properly. For example, coverage can be compromised if a signal from the facility is insufficient.
Officials from a police department contacted Chicago Communications because, after investing in STARCOM21, they were having coverage issues with their facility.
The Problem
When officers were in holding cells, they didn't have coverage — a clear safety concern. When an officer had an issue with someone who was in a holding cell, they could not communicate with their team via radio to request backup.
The department also had repeated problems connecting during roll call at the start of each shift, due to poor coverage in the basement of the facility. As with all police departments, they counted on roll call to confirm that all team members were safe, present, and accounted for and to test connectivity and coverage and know that communications would function throughout the shift.
To diagnose their problem, we started by walking the site with their engineers. We observed where the issues were occurring, replicated the problems that they were having, and identified the locations where communication was not functioning or not reliable.
The Solution
To solve their problems, we installed a bi‑directional amplifier and distributed antenna system to improve the coverage from outside their facility to inside the facility.
Now the police department has full coverage in and out of their facility and is making the most of their investment in StarCom21. When an officer is in a holding cell, if they have any issues, they are able to pick up the radio immediately and communicate with their team. And they have reliable coverage during roll call, whether team members are in the basement, another place in the facility, or in the field.