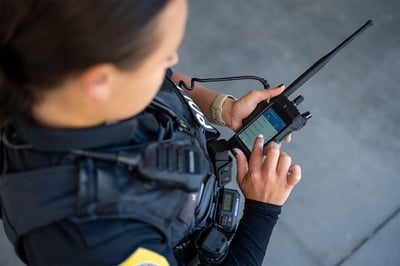 Communication equipment needs to assist us, not complicate our lives.
One of the worst situations to be in is to walk into a high-stakes situation only to learn that your radio isn't getting a signal.
WiFi only goes so far. So, relying on WiFi for communications in critical situations isn't going to cut it.
That's why public safety personnel, schools, manufacturers, and anyone concerned with safety should take a look at Motorola's APX Next, the company's most rugged and reliable two-way radio communication.
This radio is designed with public safety in mind, and has many advanced features that make it easier to focus on your mission.
Coverage Anywhere for Peace of Mind
One of the best things about APX Next is the ability to switch from radio (P5) and broadband. It's called SmartConnect.
Let's say I walk into a school, and my radio system doesn't penetrate inside that building.
APX NEXT switches automatically over to Long-Term Evolution (LTE) coverage via Verizon or AT&T. And it now rides on the LTE system. Anywhere I have cell coverage I can talk on my radio system to my other radios.
The user doesn't have to switch anything — and for safety, they shouldn't have to. Firefighters and police officers don't need to touch their radio at all; a little blue line comes on here that says "SmartConnect."
So, now I expanded my coverage system from my little town to the entire US. I can be in Florida on a beach, and talk on my radio to people here.
It really broadens the coverage, and for police and firefighters, we know that scene communication is always a huge critical issue for public safety.
APX Next gives them reliable backup because everyone's got cell coverage.
Rugged and Reliable
APX Next is also very rugged and reliable. It doesn't look as tough as it is, because it has this big screen on it — the screen is bigger than your smartphone. But I think it's better than anything else Motorola has out there.
It can be used in any weather, and it's water resistant. You can use it wearing any type of glove — so important here in our Midwest winter conditions.
They really make sure this radio is going to last and work in any condition. Motorola describes their product testing as "merciless." They put this radio through all its paces, and it still survives.
It's exactly what public safety folks need in their hands to do their jobs.
Mission-Critical Mapping
Another advanced feature that these radios have is mapping, which is called SmartLocate. Dispatchers and other radio users can always see where the other radios are.
Let's say an officer's last transmission was in their vehicle and now they're running to catch a perpetrator; they are a block and a half away in a back alley. Backup is not going to the vehicle, it's going to the officer's radio, right where they are.
You're taking seconds, minutes, or hours off of finding a person — and that can be the difference between life and death. You always know where your people are and where backup is that's rerouted toward them.
The radio can also send text messages, videos, or photos to all the officers' radios in real time. It has become so much easier and more efficient to track officers and perpetrators with this system.
Long Battery Life
Public safety and security personnel work long shifts and can't afford to not be connected every single minute.
APX Next arrives in your hands with a 14-hour smart battery. Or you can get an 18-hour battery for longer shifts.
Smart Programming
In addition to all those other items that set this radio apart, this product removes all the time-consuming hassle of programming. What used to take months can be done in minutes now. These radios can all be updated via the cloud like an IoS or Android update. I literally can press one button and the update goes to all the radios, so if you're adding or removing someone, or replacing them, the radios all get a notification.
When the users get a break in the action, they just need to restart their radios, and they're all up to date: The contacts and talk groups have been added and changed.
This is a huge improvement, especially when an agency has a lot of radios to program. We know some agencies that have a thousand radios. They used to have to track down and touch every radio, put a cable in, and make sure they had everything programmed. Then they'd have to get them back into the field. It could take upwards of a month to get things in there — now it's all instant.
An Assistant That Works for You
Who doesn't need some assistance to complete their job?
APX Next radios come with ViQi, an AI virtual assistant (like Siri, but much smarter) that can do a driver's license check, change a channel, or answer questions. Your eyes stay where they need to be while ViQi does the legwork.
Start Small, and Scale Up
APX Next is a relatively new product, so some of my customers have been starting off buying them in little batches to see how they work. Usually, the fire and police stations start by giving them to their lieutenants or battalion chiefs to see how rugged and reliable they are. DuPage Public Safety Communications bought thousands of them.
The automatic updates are a huge time saver for them. They can take care of all the radios from a computer sitting at their home office, or from anywhere
I love how easy it is to work with this technology. An organization can choose to gradually replace their fleet, or it can be replaced all at once.
Given what I've seen so far of this product, it's certainly worth talking about.