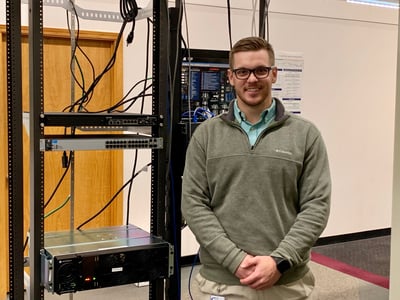 One of Bradley Dorman's favorite things about working at Chicago Communication is being able to sit down with customers and talk about real solutions.
Brad is an Account Executive, and in his role, he builds relationships with customers, helping them implement "really cool technology" to meet and surpass their business goals.
Brad began his sales career with a SAAS software company in the Chicago area, where he soon found that the aspect of the job he valued most was not selling to customers, but partnering with them. When he learned about the opportunities at Chicago Communications and their approach to customer service, he knew he wanted to join the team.
A Pride in Value and Technology
Since then, he's also come to love the people of Chicago Communications. He says his co-workers have gone out of their way to make him feel welcome. In addition, he also takes pride in the company's commitment to value and high-quality technology.
"We're selling some of the best equipment," he says. "We're not pushing something that's going to break. We're not here to make a quick buck."
The value of ChiComm products is something he tries to impart on his customers. He says his goal is to help clients implement quality solutions. And while those solutions may cost a little more on the front end, he emphasizes the importance of "doing it right the first time."
"My goal is to build trust and have a long-lasting relationship with customers," he says. "So I don't want to sell them something that's not going to pay off in the long run."
Brad's commitment to quality and succeeding in the long run is in line with his educational background. He started school at Iowa State University before taking a break midway through to join the Army, where he served in the Infantry for six years. He then returned to Iowa State and graduated in 2016 with a degree in business management. Brad continues to serve in the Illinois National Guard.
Outside work, Brad enjoys staying active. He spends his time working out, going on long runs, playing on a local softball league and hanging out with friends.
What three things would he not want to live without? Caffeine, his iPhone, and friends and family.