Two-way radios consistently prove to be an essential communication solution no matter the industry. The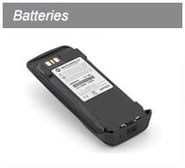 versatility of the system makes these devices applicable to school campuses, large hospitals, and even factories and warehouses. The wide range and strong reception permits radio users to receive and transmit information quickly, all while over reliable frequencies.
If you've been using radios in the workplace, you have likely experienced a spike in productivity stemming from more fluid communication. Radio systems simplify communication, enhancing coordination and efficiency. Overall, your decision to invest in this communication solution proves its worth rather quickly in the short term.
But what about the pay off in the long-run? Two-way radios expected seven year life span suggest that the value of the equipment will definitely result in a return on investment. The best way to protect your investment and maximize its functionality is thoroughly maintaining the headsets.
Daily Radio Maintenance
Most radios systems come standard with a rechargeable battery that can be placed in the charging dock that are ready to use with the signal of a green status light. However, not everyone uses charging docks exactly as they should, and some radios often idly sit on the dock, continuously charging. Overcharging is a major contributor to diminishing the batteries long-term value.
Because rechargeable batteries don't die in the standard sense like normal batteries do, determining when to replace them isn't as clear. With time, and poor battery maintenance practices, your batteries will weaken.
Signs that You Should Replace Your Batteries
A weak battery will hold a charge for shorter periods and require more frequent charging

Despite constantly needing to be charged, a weak battery will charge rapidly because of its limited battery capacity

Weak batteries often overheat during charging or usage

If you remove the battery cover and notice any corrosion on the battery

If you detach the entire battery and feel any hard spot, bubbling or swelling
Two-way radios are an easy to use technology and great investment. With daily use, proper maintenance and care procedures, your radios will last for years.
Need more information about two-way radios systems? Contact Chicago Communications today!