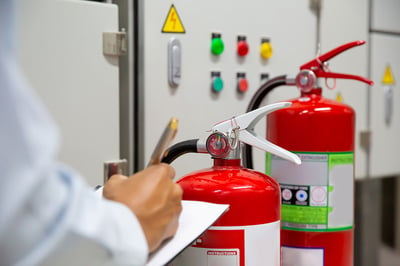 Public safety requirements for distributed antenna systems are a key part of fire safety inspections. School campuses, hospitals, manufacturing facilities or commercial businesses can expect a visit from a fire marshall at least yearly to ensure operations are in compliance with local or national code regulations.
These inspections happen, particularly for the public safety sector, after communication systems are upgraded to new technology. However new construction and buildings that have been remodeled may also warrant inspection.
What to Expect During Inspection
When inspection day comes, a fire marshall or battalion chief will walk the building and check for code compliances. They will access the building's safety and functionality, including:
What type of safety systems are installed, like sprinklers
The building's floor plan and possible interior walls that disrupt radio coverage
How electrical systems are used and placed
Where and how materials are stored


Communication capabilities will also need to meet public safety requirements. An inspector may check compliance if new walls were built during a remodel as their location may block radio frequency.
If an inspection fails and it's determined that there's no coverage for public safety, a distributed antenna system will need to be built out onsite so first responders can have access to dependable communication networks when it's needed most.
Site surveys
In some cases, a third party may be called to do a site survey in conjunction with a fire safety inspection. This company will ensure that communication signals on site are strong enough to meet first responder needs in case of an emergency.
Depending on the type of building and industry, different officials will need to call and schedule this survey. For example, if it's an existing building, the head of IT or security for that facility should handle it. In other cases the fire chief's assistant may call or, if the building is in the commercial market as new construction, the construction company's general contractor or electrical contractor will set the appointment. If it is a commercial facility, the owner of the building will also need to pay for the inspection.
Smart Inspection Preparations
With the proper preparations, fire safety inspections can be accessed and completed. Here are a few suggested actions to take before the day arrives.
Assess your radio coverage network inside each building.
Take time to note and address areas that are known for having low or less than ideal signal capacity. General building areas must have 90% coverage while the following critical areas must have 99% radio coverage:
Exit stairways and passages
Elevator lobbies
Emergency command centers


Educate yourself on fire codes and compliances in your area.
It's important to have some understanding of ordinances that apply within your industry and jurisdiction. More and more jurisdictions are setting coverage goals for both new construction and existing buildings. Stay up‑to‑date on all codes under the International Fire Code and the National Fire Protection Agency.
Have any past documentation on hand.
Building floor plans, prior inspection paperwork and written reports readily available helps to make sure DAS requirements were covered in the past, and highlight any needs that may have been missed. You can also feel confident knowing pre‑construction requirements and procedures were met, which saves everyone time.
Stumped? Ask an expert.
If you don't have the expertise in‑house to inspect public safety DAS plans or oversee testing, consider reaching out for help from a third‑party. It's also important to encourage developers and building owners to have their distributed antenna system solutions professionally installed to avoid costly mistakes or missteps.