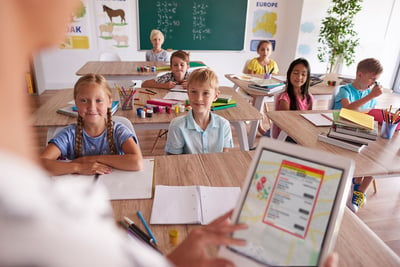 School communication systems have come a long way from backpack notes and early-morning news broadcasts announcing snow days. Parents and caregivers expect to hear from schools quickly and conveniently about everything from their student's grades to district-wide announcements.
This is especially true when it comes to safety: families and school employees alike want the most reliable, fast, and intuitive communications solutions to be a core element of their school or district's emergency response plan.
A multifaceted emergency communications system, like Rave Mobile Safety, is needed for that. It's specifically designed for use in emergency situations and is already trusted by schools and universities around the country.
Here's what to look for in an emergency communication solution for your organization.
Inclusive of many communication platforms
One of emergency communication's biggest challenges is ensuring everyone is in the loop. This means emergency messages must reach everyone, even if they don't have the newest phones and devices. This is particularly important for low-income families and the elderly, who are less likely to have smartphones.
An app with notifications is important for people who do have them because people tend to bring them everywhere: at home, at work, or anywhere with a phone signal or Wi-Fi. Rave Mobile Safety has an easy-to-use app for admin and users alike, but it can also send messages via SMS text, voice call, and email. This way no one misses an important update.
Easy to onboard and use for administrators
Even the best secure communications systems aren't helpful if users aren't signed up. It's necessary to have a solution that allows administrators to get students, teachers, staff, and parents signed up quickly.
With everyone's email and phone number in the system, admins can easily create subgroups. These might be for specific schools within a network or just for student-athletes who travel frequently.
And most importantly, during an emergency, an administrator must be able to send a message to everyone who needs it without wasting time. With an app like Rave Mobile Safety, admins don't need to navigate through a complicated or finicky interface in order to send a message to the relevant people.
It's also important to be able to pre-program messages into a system. For example, when you know a weather emergency is on the way, it's helpful that messages can be sent on a timed schedule.
Emergency-specific
Rave Mobile Safety was created with emergency communications in mind. For example, features include a "panic button," allowing administrators and teachers to connect with first responders immediately if necessary.
Families can sometimes feel overwhelmed with information coming from school about meetings, activities, workshops, and sports events. With Rave Mobile Safety, notifications and messaging can be set up so parents know that they're only receiving the most important updates and won't miss them when time is of the essence.
Customizable with expert support
Purchasing a communications system like Rave Mobile Safety from ChiComm means getting a solution that fits your needs. Our experts offer different packages based on the population you're serving and can go further to help you add on any additional features you need.
We know how important it is to be able to address any situation that may come up. But we also know it's just as important to keep emergency systems simple and not spend time or money on unnecessary capabilities.
After working with you to identify exactly what's needed, our team at ChiComm makes sure that you can use the system when you need it. In the event of an emergency, there isn't time to figure out a new program. Training and implementation support, alongside an already easy-to-use design, means admin can respond without hesitation.
Ideally, emergency communications systems will never be needed, but if they are, it's important that they be in place to mitigate damage and avoid panic. To learn more about bringing Rave Mobile Safety to your school or university and how best to implement an organization or community-wide communications system, contact us at ChiComm.