Firefighter equipment has come a long way since the days when leather helmets and uniforms were the most durable options available, and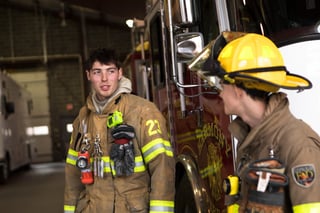 portable radios for firefighters were either unheard of or few and far between.
Today, technology and data are driving rapid change, from GPS-enabled gear to specialized two-way radios that allow personnel to communicate in the toughest – and loudest – conditions.
As advancements continue, here are several predictions for firefighter equipment trends in communications and beyond, with a focus on what we'll see more of.
More Specialization in the Firefighter Radio Offerings
Two-way radio manufacturers will continue to step up their commitment to public safety radios that meet the needs of different users, recognizing that what's important in a firefighter radio differs from what police officers and EMTs may need.
Enhanced audio quality and reliability will continue to lead the way in must-have firefighter radio features, as well as ergonomic adjustments in radios and accessories to account for the specialized gloves, gear and other personal protective equipment (PPEs) that firefighters require.
Oversized dials and controls, voice activation functions and flexibility are just some of the features that will continue to be built upon.
In addition, as PPEs become more technologically advanced to meet the demands of the modern fire ground, the further integration of communications equipment into gear isn't far off, and the life-saving possibilities such as enhanced GPS are endless.
More Sophisticated Features in the Fire Helmet Camera
The spread of the fire helmet camera as a tool in public safety has been considerably slower than the rapid rise of police body cameras, but there are benefits to the technology that will likely grow with more use and testing.
Video camera footage can be invaluable for training and development, as well as for criminal or legal proceedings. Perhaps most exciting are the offerings made by firefighters for firefighters.
Existing features will continue to be refined, including:
Hands-free operation
Fire and shock resistance
Enhanced resolution meant to produce usable footage under smoky conditions
More Consolidation in the Dispatch Center
Cost savings, innovation opportunities and better use of pooled resources are just some of the reasons for the increased consolidation of the 911 dispatch center across the country. As those concerns continue and increase, so will the pace of consolidation.
In fact, in some places, such as Illinois, consolidation is the law of the land, with a requirement that all towns with a population of less than 25,000 combine their 911 operations by July 2017.
The benefit for firefighters is the potential for increased investment in new wireless technology, including dispatch center upgrades and enhanced two-way radios, applications and accessories as new centers are constructed. For some, consolidation is also seen as a necessary part of setting the stage for the next era of public safety communications.
More Focus Functionality vs. Price
Given the unique financial and resource challenges that public safety agencies face, it can be difficult for municipal officials to keep their focus on safety vs. savings. A lower cost typically equals a lower chance of getting everything that's needed.
Less expensive equipment will not only cost more in the long run in repairs and replacements, it's far less likely to have the features and functionality of high-end devices that have been built with public safety's unique requirements in mind.
As radios and other equipment becomes ever more advanced, agencies will see the benefit of investing in the best, for current needs and into the future.
Less Guesswork
In general, advances in firefighter equipment will continue to provide life-saving information and access to technology to save more lives and increase safety.
To get a free estimate on the best public safety communications solution for your department or agency, contact us.