School transportation is one of the parts of running a district or campus that has the most moving parts -- quite literally. Buses and other vehicles have to be dispatched and tracked, student class and activity schedules must be coordinated, and for all of that to happen successfully, reliable communication is essential. Whether your district is large or small, your communications solution is tasked with keeping everything running smoothly and all personnel in contact.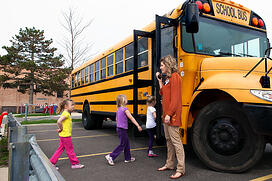 Compared to cell phones, radios offer enhanced durability, reliability and functionality, as well as reduced cost, and they're an ideal way to centralize communications. Two-way radios and mobile radios are user-friendly, and the overall solution is easily scalable for when districts are ready to expand their capabilities or number of users.
In this blog, I'll share some creative ways to use communications to streamline your school transportation system.
Mic Extenders for Mobile Radios
Mic extenders are a must-have for school districts, especially those using radios for school transportation. Using the extenders with mobile radios allows staff to go outside of the bus or vehicle and still keep in touch with dispatch or other personnel.
GPS Tracking
GPS tracking is another must-have for streamlining transportation. Dispatchers and supervisors can see, in real time, where all vehicles are, where they're going and even where they're parked. There is also an integrator available that sends an alert to supervisors when a vehicle goes out of the footprint of their radio system.
All-Call Emergency Channel
Using an all-call channel for emergencies or everyday communications lets all staff instantly connect across a district, especially when seconds matter. The ability to reach every user with the push of a button is just one of the many reasons why radios are a better communications solution than cell phones, especially for school districts.
Trunking via Linked Capacity Plus
Linked Capacity Plus is a trunking solution from Motorola that districts are using to communicate with bus drivers and other mobile staff. Users can keep in touch across a wide area by being linked to up to five sites via an IP network.
The popular solution also allows for text messaging, one reason that districts are advised to get mobile radios with alpha numeric keyboards.
Interoperability via WAVE 3000
WAVE 3000 is another popular Motorola solution for school transportation. WAVE 3000 is part of the WAVE Work Group Communications offerings, which deliver secure push-to-talk (PTT) communications between radio and non-radio users.
Using the WAVE 3000 application, administrators and staff can connect via radio, smartphones, tablets, computers and landlines. The application allows for private or group conversations over voice or text. Smartphone and tablet users can download the app for free.
Perhaps most importantly, districts that have made the switch to radios generally have the same reaction: They're very happy!
In my work at Chicago Communications helping school districts find the right radio solution, I find school districts are looking for a robust system that's very versatile and budget-friendly. Each district has specific needs, so we design a system for each individual school district that is custom-made.
To get a free estimate on the best communications solution for your school or school district, contact Chicago Communications.