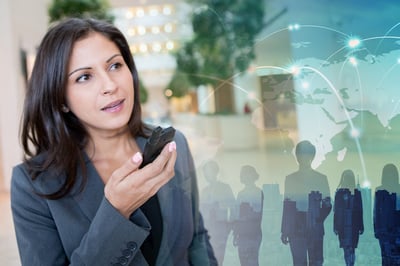 We often talk about the communication challenges of loud or busy environments. Manufacturing workers need to be able to speak to each other above the noise of machinery. Hospital workers might need to summon medical help from across the building. Fleet drivers must arrange pickups and deliveries from their locations on the road.
For global companies, there are other types of communication challenges. For instance, how can employees talk in real‑time from offices in different countries?
This was a challenge faced by one of the clients I've served at Chicago Communications. Below, I'll unpack how this multinational organization unlocked communication around the world with our help.
The Situation
This global finance corporation has eight locations in the United States and one location in the United Kingdom. International staffs needed a better way to communicate in real‑time.
The company identified their main challenges as:
Complying with regulations
Connecting to the U.S., with the communications configuration needing to be adjusted based on the network


The Solution
In analyzing the company's challenges, we identified a solution to address them: the nine locations could be connected with the Motorola MOTOTRBO Linked Capacity Plus (LCP) Digital Radio System. To start putting the solution in place, we arranged for LCP setup. This was done in conjunction with two global command centers outfitted with Motorola Avtec Consoles.
In short, we improved site communications by providing them with a radio that can talk directly to the site and departments. This unlocked the organization's most robust communication channels yet. Every site can now communicate with the others, worldwide. They can have a private call, text message, and group call.
The Takeaway: How to Solve Global Communications Challenges
Global companies often rely on third‑party applications. Zoom. Slack. Cloud‑based chats. These work in some settings. However, sometimes employees need a more secure, audio‑based connection. In these cases, linked two‑way radio networks fit the bill.
Global companies can use systems like MOTOTRBO LCP to connect all their locations anywhere in the world. This means secure access for administrators, security, and other personnel to see:
The total radio users
Activity on each site
On

‑

site cameras, doors, and alarms
All this information is accessible in seconds by voice, text, or notification.
Solutions for Today and Tomorrow
Not every global corporation needs linked capacity networks today. But, the global workforce is changing. More than ever, employees switch locations, pick up projects remotely, or connect without face‑to‑face interactions.
Many global companies, such as the customer described above, solve issues for today and tomorrow by investing in turnkey solutions to grow with new needs and processes. We helped the company think beyond current workflows to create a wishlist of communication technology that might be.
While weighing the pros and cons of global communications solutions, company leaders should ask:
What needs might arise next year?
What solutions could meet those needs before the challenge occurs?
What communications technology drives safety, productivity, and cybersecurity?
How MOTOTRBO Linked Capacity Plus Works
MOTOTRBO™ Linked Capacity Plus (LCP) is a multi‑site digital trunking system ideal for global businesses and on‑the‑move teams. LCP helps staff connect throughout their shifts from anywhere in the field. This is possible by linking up to five sites via an IP network.
The result of LCP's connectivity is continuous, reliable coverage from literally anywhere — no matter how scattered your global locations may be. Two‑way digital radio users can use text messages, location tracking, and automatic site roaming without changing the digital channel. In the end, fast, secure communications like LCP improve the workplace for all.