When ChiComm Account Executive Todd Niccum talks to customers about DispatchPlus, our wide area network application for MotoTrbo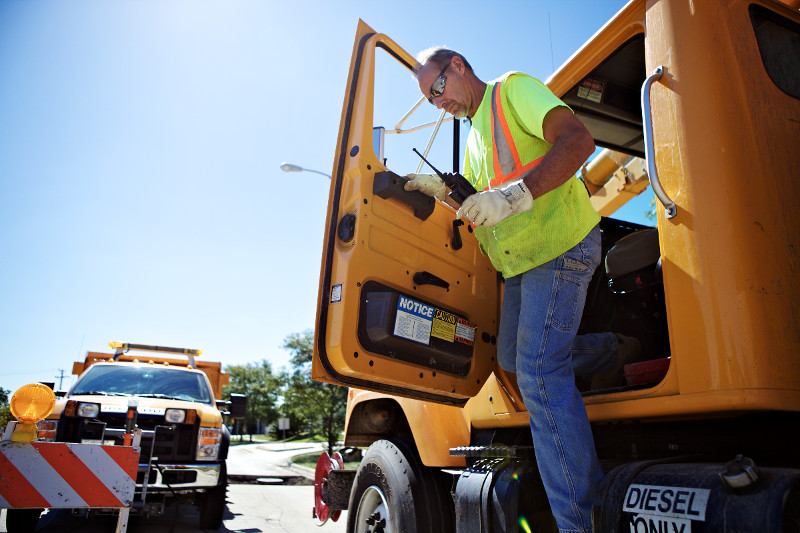 radios, they all have the same reaction: "I can't believe how clear the communication is between the radios."

DispatchPlus was developed and brought to market by pdvWireless, whose chairman and vice chairman are co-founders of Nextel Communications. The strength of the Nextel brand has helped win over both cell phone customers looking to make the sensible switch to radios as well as non-Motorola radio users looking to step up their service, Niccum said.

"The superior voice quality isn't matched by any other radio or cellular system," he says. And when customers hear of pdvWireless' history, they say, "'Ooh, I used to have Nextel, they work great.'"

As a cloud-based work management solution, DispatchPlus enhances the power of MotoTrbo radios with a user-friendly web interface that gives dispatchers real-time information on drivers' current location, route and communications.

Among the features that users rave about:
Private and Group Calls
Dispatchers can talk to an entire fleet at once, or just one driver.
Text Message Capabilities
Dispatchers can send updates via text message and receive voice responses back via push-to-talk (PTT), reducing response times.
Legal to Use While Driving
Unlike handheld cell phones, two-way radios are legal for drivers to use while on the road. Niccum says one strong selling point for dispatch-driven businesses such as bus and tow companies is the instant legal communication.
Cheaper than Cellular
The DispatchPlus solution is available at $30/month – far less than the typical cell phone plan.
Wide Coverage Area
Coverage in the Chicago area ranges from Milwaukee, Wis., to Kankakee, Ill., and from Valparaiso, Ind., to Rockford, Ill.
The Nextel co-founders raised $300 million and bought back all the 900MHz frequency licenses that had been sold to Sprint and is using them for the wide area solution launching in Chicago and 19 other markets.
At the time the deal with Sprint was announced, pdvWireless Chairman Brian McAuley said, "(Vice Chairman Morgan O'Brien) and I are proud of the role we played in building Nextel into a carrier focused on the needs of the enterprise community. With the availability of Motorola Solutions' digital radio technology, we see an opportunity to incorporate PDV's proprietary cloud-based mobile resource management solutions into a next generation offering for businesses. These solutions increase productivity through the delivery of real-time information from and about mobile workers to their managers."
For help selecting, installing, and servicing the perfect wide area network for your facility, contact Chicago Communications today!