Meet Our Technicians: The Experience behind ChiComm
Darrin + Larry + Ken= 80 years of experience!

Between these three guys alone, there's 80 years of service spent at Chicago Communications! Ken leads with 34 years, while Larry has 28 and Darrin, 18. That's quite a few years of valuable experience. Although each of their careers with Chicago Comm has varied in specialties, they have several foundational qualities in common. They are always in the field where no day is the same, every job is in a different place. They both face the same challenges such as working with public safety customers where the communication systems operating tie to critical situation response times that can result in life and death. "Working with public safety systems can definitely put more pressure on you... and it can be challenging," says Larry. "Most people don't really know what we do. They may see a glimpse of a dispatch center or see antennas on top of a building and not realize how those work. All of our work is behind the scenes. People think the police vehicles come from the manufacturer ready to use but it's our mobile installers that put in the radios, light bars, cages, and computers; and it's our technicians that go out to help when these systems have problems."
Ken & Darrin specialize in infrastructure installations including but not limited to antennas, cable lines, and infrastructure equipment for repeaters, BDAs, radio systems and dispatch systems. These kind of jobs have them outside, up on roofs, inside water towers, in basements, attics, ceilings--basically at the dirtiest places doing the most dangerous parts of the job. They get everything in the ground or building so the field technicians like Larry can come in and fine tune it to get the product or system up and running.
Ken graduated high school from JFK High School on the south side near midway airport in 1973. He played a lot of baseball, but he's a south sider that's a Cubs fan. Ken went to college to attempt pursuing a professional career in baseball. When that didn't work out he took the job from the Chicago Comm shop at 54th and Keeler. He remembers his first job during that summer, installing mobiles on CTA buses.
Darrin started out doing mobile repair for a few years until he was paired with Ken to train for about a month. He's been doing installs and working (usually) alongside Ken ever since. That's 15 years of two man jobs, pulling cable, installing or repositioning antennas on top of buildings, etc. Another detail to mention is the effect weather has on these guys while they're working, or the additional difficulty it can add to a job. Ken says, "When we go out on a job it doesn't matter if it's twenty below or reaching 100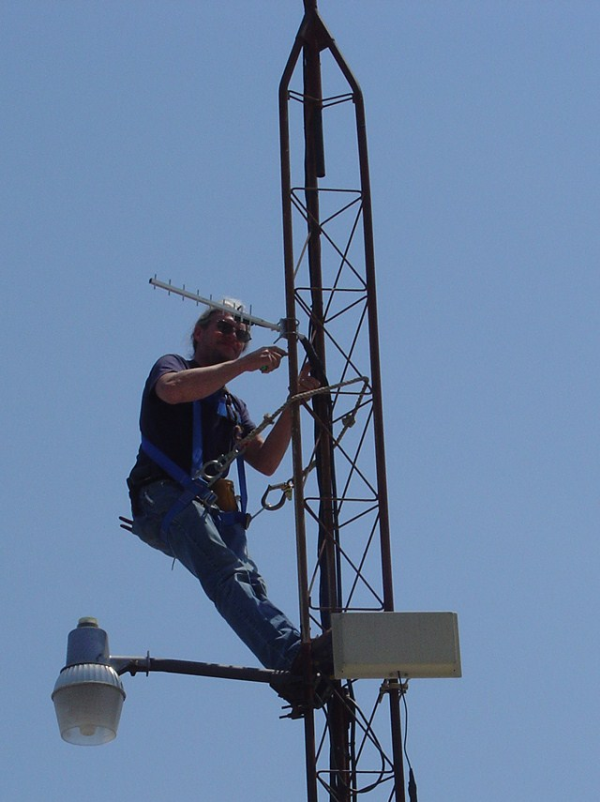 degrees, the job has to be done. You've got to either bring water or bring layers but I don't think we've ever missed a job because of weather. We get them done, rain or shine." The only time either can recall a job getting interrupted was due to continuous attacks from a falcon that inhabited a roof they were working on. They had an interesting time trying to edge out, taking one step at a time, trying to avoid the attacks from the falcon protecting her nest. (They even have video to prove it!)
Meanwhile Larry started in 1984 at the South Shop location (54th & Keeler) straight out of DeVry. Larry worked on phones in pre-cellular days for Illinois Bell. He crossed paths with Ken for the first time during the cellular days when they were both installing the units in cars. Larry now maintains the infrastructure and base equipment that Ken & Darrin install. He's seen the ways technology has influenced the industry first hand. Digital radio has affected troubleshooting for him and other technicians because they can no longer look at the data directly to tell if it's working right like you can with analog.
Another thing about technology these days is the standard demand for all things to be wireless. I learned from these 3 men that most people don't realize how much wire it takes to make something wireless. A big part of providing wireless communication indoors involves redistributing the strength of a signal. ChicagoComm has been working with Bi-directional Amplifiers (BDAs) and Distributed Antenna Systems (DASs) for over 15 years. BDAs bring a signal into a building or other areas where the radio signal has been obstructed. Constant wireless communications rely on consistent coverage wherever the portables are carried. And since these portable radios serve as lifelines to first responders, it is up to Ken, Darrin, Larry and their fellow team members to uphold and maintain all aspects of the systems responsible for supporting these public safety personnel.
To learn more about ChiComm: product demonstrations, service tips & current relative industry information, follow us on Twitter or visit our YouTube channel to watch videos!
This article was written by Jill McNamara, Internet Marketing Coordinator at Chicago Communications. Jill has written all of the Meet Our Techs & Employee Spotlight articles for ChiComm's blog and continues to seek opportunities for similar articles from current employees & customers. If you'd like to submit a suggestion, Contact Us!