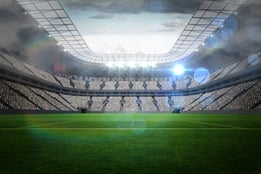 What are the first things you think of when given the slogan 'Are you ready for some football?!" Many ideas such as food, tailgating, friends and team rivalries are the first to pop into our minds. But what if we didn't have our Sunday afternoon/nights of football, or what would we have to look forward to on Monday nights after a day at work if the NFL ceased to exist? Fault proof communication is one of the silent, yet very important aspects of running not only a successful game, but a stellar season.
We have all seen the coaches of our favorite team on the sideline with their (typically) Motorola headset, that allows them to hear between coaches and players amongst a noisy crowd and rowdy game. But there's much more when it comes to the need of communication, most of which takes place off the field. Although we might not witness it first hand, there would definitely be a much different atmosphere if it weren't for the constant communication of different staff members.
One of the biggest rivalries in this part of town is the Chicago Bears and Green Bay Packers. Imagine filling Soldier Field to its capacity of 61,500 during such game. Not to mention crowd control prior to kickoff. Soldier field is located in the heart of downtown Chicago, where many companies, sky rises, and apartment buildings also call home. For a 7pm kickoff, you can expect tailgating to begin around the noon hour. The parking lot begins to fill, BBQ's begin to emerge, and you see the comradely between fans and distaste amongst those cheering for the other team. Security in the parking lot is pertinent for fans to be able to enjoy the activities of tailgating but also being able to make it inside for the game adequately. Parking officials can communicate between one another to not only direct cars on where to park, but to alert those necessary during an emergency.
Once fans begin pouring into Soldier Field, it's important for staff at the field to get fans to their seats and to keep them happy. Although measures can be taken to predict a rowdy patron or an empty beverage stand, there's always room for mishaps. Connecting to one another with a two way radio system, such as MOTOTRBO, employees can feel reassured that their message will be relayed to the correct person so the issue can be taken care of promptly.
A key benefit to choosing MOTOTRBO is the ease of communication across a large space. Taking care of communications needs across a large venue such as a stadium is much different than taking care of the communication needs of a smaller scale. MOTOTRBO offers many options based on your individual essentials, such as IP Site Connect, Capacity Plus, Linked Capacity Plus, and Connect Plus. Chicago Communications can easily suggest which would be best for you based on your necessities.
MOTOTRBO offers great answers to communication needs, even on a smaller scale – such as that of a college or university. Some of the key details include a 40% longer battery life, clear audio (no static, background noise), and reliable coverage making it easier to hear with long distances or noisy atmospheres. One of the cost effective advantages of MOTOTRBO is the ability to add capacity without frequencies…more radios on your current frequencies means not having to obtain extra repeaters to be able to handle the added capacity.
By creating a communications system that effectively reaches all of your employees, every day tasks become much easier to take care of. Whether you have a staff of 100 or 1,000, MOTOTRBO can offer you a peace of mind when it comes to your communication equipment.