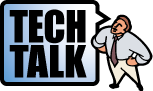 I would like to take this time for the customary Tech Talk to notify users of the 470Mhz frequency band of interference we have been receiving over the last 6 weeks. Users along the North Shore of Illinois operating on specific 470Mhz channels have been getting hit with co-channel or On Frequency interference. What that means to you is specific direct interference on your frequency will result in lost coverage and excessive noise coming across your frequency.

Forpublic safetywe have seen this on "Voting Receivers" that unsquelch all of the radio receiver sites and mix with the incoming audio of the mobile or portable user in the field. At the dispatch end this audio is broken and garbled to the point it is unintelligible.
As interference can manifest itself through many ways, we have been unable to determine the cause of this specific interference. We do not believe it is local to the Chicago area at this point, as we are getting it in Lake and Cook Counties.

This article was written by Tom Treichler, Director of Sales & Service at Chicago Communications. Tom has over 30 years of experience in the industry with a background in engineering, system integration, and wireless broadband. If you have any questions for Tom, or another representative at ChiComm, please contact us.