The future of healthcare technology is an exciting landscape of better overall health, enhanced hospital safety and seamless access to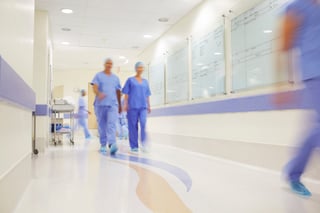 information – all powered by wireless communications.
Digital two-way radios, IP phones, radio frequency identification and smartphone apps for healthcare, as well as upgrades to more traditional communications systems such as nurse call systems, are all playing a key role in shaping the industry's growth.
With the benefits to well-being in mind, let's take a deep dive into understanding wireless communications and the future of healthcare technology.
Challenges Facing Healthcare Technology
In an age when consumer-focused watches and wearables monitor people's heart rates and smartphone apps show promise in treating depression, the traditional healthcare industry has fallen behind when it comes to technological innovation.
The reasons are plentiful, including challenges presented by regulation, fragmentation in how the industry is structured and funding. That's the bad news. The good news is that healthcare information technology leaders and industry disruptors are successfully using wireless communications to drive change.
Thanks to their efforts, the future is bright.
The Critical Role of Digital Two-Way Radios in Hospital Safety
Now more than ever, healthcare workers need instant, reliable communications as incidents of violence in emergency rooms and patient areas continue to rise. Communication in healthcare isn't just about patients' medical care, it's about everyone's safety and security as well.
According to the American College of Emergency Physicians, 75 percent of ER doctors experienced at least one incident of workplace violence in the previous year, and more than 70 percent of emergency nurses reported physical or verbal assault by patients or visitors.
With both staff and patients at risk, emergency room workers need to be able to reach security personnel the first time every time, and too often, analog radios and cellphones just can't keep up.
When it comes to safety and security, digital two-way radios are superior to analog radios and smartphones in terms of:
Reliability

Reach

Range

Durability

One-touch, one-to-many communications

Ability for enhancements through apps, accessories and special features
Wide Area Coverage with IP Site Connect
According to the Bureau of Labor Statistics, healthcare created more jobs than any other sector in the U.S. in 2016, helping to drive total annual job growth to 2.2 million. As the industry continues to grow and bring on new workers, the communications challenges grow as well.
For larger hospitals and healthcare systems, both personnel increases and distance make wireless communications even more complex and solutions such as IP Site Connect even more vital.
IP Site Connect by Motorola Solutions uses the power of the internet to extend coverage of a MOTOTRBO communication system across a hospital campus, a city, state or even the country. It also eliminates the impact of structural and natural physical barriers such as tunnels, trees and hills.
IP Site Connect:
Can bridge communications for up to 15 repeaters and 100 people in different locations

Allows users to roam from site to site without changing channels or interruption

Covers the sharing of voice and data, including text messaging and GPS tracking
The solution is ideal for growing hospital systems or campuses that have personnel spread across multiple, far-flung locations.
IP Phones for Healthcare
The internet is also driving another healthcare technology trend: IP phones for hospitals and hospital systems. Healthcare organizations are turning to VOIP to replace aging phone systems that can't keep up with demand and are costly to maintain.
Benefits of IP phones for healthcare include:
HIPAA-compliant data storage: As more hospitals and clinics fully adopt Electronic Medical Record (EMR) and Electronic Health Record (EHR) technology, they need a phone system that provides secure information storage.
Call recording and monitoring: Ensures backup of the patient and health information relayed by phone.
Access to integrated software applications: Many organizations that choose IP phones package the service with instant messaging, call management and conference call capabilities, among others.
Priorities for Healthcare Information Technology
The pillars of healthcare information technology and strong wireless communications infrastructure go hand in hand. Securely creating, storing and transmitting electronic medical records in real time requires powerful networks.
In a survey of 95 healthcare executives by Healthcare IT News, respondents outlined their priorities for upgrading technology. The survey offers a revealing look at the direction of healthcare information technology.
Technology upgrade priorities by the percentage of respondents:
52 percent: security

51 percent: analytics

44 percent: patient engagement

44 percent: population health

31 percent EHRs

24 percent remote patient monitoring

22 percent revenue cycle management
One of the most exciting pieces of technology related to the future of healthcare technology is radio frequency identification. It's being used to save both lives and money in inventory management, patient tracking and management, as well as document and data file tracking.
The Next Generation of Nurse Call Systems
An element of healthcare tech most overdue for a high-tech overhaul is nurse call systems. Patients and staff find are finding that the systems of the past require too many steps, don't have robust reporting and aren't as accessible as they should be.
Upgrading to a wireless nurse call system can deliver better reporting, access via multiple access points, adaptability and scalability. Data from a wireless system can be integrated into workflow management solutions and be used to make staffing safer and more efficient.
Healthcare Apps
For both patients and medical professionals, smartphone apps for healthcare are transforming the way care is delivered.
For doctors, some of the most popular apps offer access to medical news, articles, prescribing guidelines and drug information, and even tutorials for students. While some apps cater to a range of medical fields, others target specialties such as cardiology.
On the patient side, apps are available for everything from calorie counting to the automated diagnoses of minor aches and pains. Physicians are even recommending apps to help patients track conditions and treatments and gather information.
The Future is Now
When it comes to increasing access to quality healthcare and information, the future can't come soon enough. Wireless communications technology and devices are playing an integral part in supporting the advances of today and laying a firm foundation for the innovation of tomorrow.
To get the communications technology you need at your health care facility, contact Chicago Communications today!