The larger an organization or network becomes, the more complex its communications needs become. While this offers a significant challenge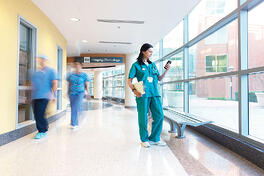 for many industries, it weighs especially heavy for those in healthcare.
Security, in-building communication, multi-campus communication - all of these activities become more challenging as a health network expands to more campuses or a single hospital adds a new wing, for example. And, while the obvious need is to best serve patients (even save their lives), hospital administrators are also faced with controlling costs and streamlining any process that they can - something that outdated healthcare information technology can hinder.
Unfortunately, many healthcare systems still rely on outdated analog technology, or, they do use newer technologies, but in the wrong ways. For example, campus security officers who use analog radios will run into common issues such as:
Limited range

Poor signal within large buildings

Lack of immediate notification ability (Push-to-Talk)
Or, hospital staff rely on their personal (or network-owned) smartphones for communication. While there are several issues with this strategy, perhaps the most important is that smartphones are simply not as reliable as, say, a digital two-way radio. In areas of the hospital that the smartphone cannot get signal (basement, emergency room, etc.), digital two-way radios can come in crystal clear, thanks to their expanded network capabilities. Plus, radios can go much longer without a charge than a smartphone.
The biggest challenge hospitals face with analog technology is that it just doesn't do exactly what they need. For example, one of the most common goals health administrators have is to have an efficient radio system within their building, especially in emergency rooms. Plus, they want to equip their security and maintenance teams with devices that are always reliable, even when staff are working in the basement or deep in the interior of the building.
These things are simply not obtainable when working with outdated technology - which is why many administrators make the decision to upgrade to digital.
When it comes down to it, healthcare networks face multiple challenges everyday, but three of the most common challenges that can be solved by an upgrade include:
Providing patients with a better experience through improved response time from staff

Increase staff and patient safety with critical voice communication

Increase productivity of nurses, clinicians, and doctors
To learn more about how your hospital or network can start making the move to digital technology and improving your communications, you can download our free resource below, or, contact us today!