Technology in education is constantly evolving in exciting ways, from apps that aid in learning to communications equipment that enhances school safety. We know that administrators are always looking for economical ways to use technology to address their challenges, so we'd like to share this case study from one Illinois district that made the smart switch to radios.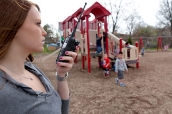 By transitioning staff and administrators from cell phones to MOTOTRBO two-way radios, Fremont School District 79 (SD 79) not only improved communications, they transformed their school safety.
Here, we'll take a look at some of the specific advantages that radios have over cell phones for Fremont SD 79 and districts like it.
District Details
Fremont SD 79 is in Mundelein, a semi-rural suburb that's about 40 miles north and west of Chicago. The district covers 36 square miles and enrolls more than 2,200 students from kindergarten through eighth grade at its three schools.
Rolling hills and a nearby forest preserve make for a lovely – but isolated – setting.
Heightened Reliability
Anyone who uses a cell phone, especially for work, is well aware of its limitations: reception can be spotty, and often there isn't much that a carrier offers to do. That was the case for the district, says Mike Tanner, director of business services.
Cell signals were weak, especially in lower levels of the schools where the cafeteria, storage and mechanical rooms were housed.
ChiComm Account Executive Cathy Kulnig says she remembers the challenges the district was facing and her recommendations.
"They were at the mercy of the cellular system and carrier," she says. "Fremont's administration wanted reliability and security tightened at their schools. With all the events occurring in schools today, they were looking for a better way to improve safety and MOTOTRBO was the right solution."
The radios have lived up to their reputation for reliability.
"The clarity and quality of MOTOTRBO is very good, as is coverage inside our buildings. The ability of the radios to pick up a voice clearly and transmit it without background noise is excellent," says Tanner.
Instant Access
Another challenge presented by cell phones was the possibility of losing communication, especially during an incident or severe weather when cell systems can get overwhelmed.
"We wanted a system that was independent of cellular networks," Tanner says. "In an emergency when hundreds of parents show up at the schools and saturate the phone network, we wanted it to function no 
matter what."
Cost Savings
The district was also on the hook for pricey recurring cell phone charges, something they were able to shed with the switch to radios.
"We were spending thousands of dollars a year to have a Nextel solution that was not working for us," says Tanner. "The Nextel bill was confusing and had constant add-on charges.
It was an unwieldy mess we don't have to manage anymore. Now we have 20 percent return on investment for enhanced capabilities with MOTOTRBO. For us, the decision was a no brainer."
The Solution
To address the district's challenges, we put together a robust solution of Motorola products and accessories, including:
To get a free estimate on the best communications solution for your school or school district, contact Chicago Communications.