Your large team needs a reliable communication solution and cell phones won't do. Two-way radios are a great alternative and when used with Radio over IP (ROIP) technology, your organization's wireless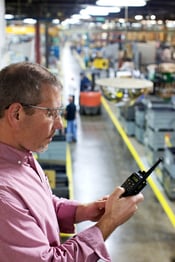 communication needs will be exceeded.
What is Radio over IP?
Radio over IP uses an adapted form of Voice over IP technology to equip two-way radios with a signal to communicate across devices. The combined use of the internet, the IP part of the equation, and digital two-way radios makes this wireless communication solution possible.
With the internet being widely accessible and two-way radios being one of the most durable and reliable communication solutions available, RoIP can be a great option for many industries and their communication needs.
Applications of Radio Over IP
RoIP is most commonly applied to satisfy one of the following communication needs:
Providing a digital communication solution to users across wide distances

To provide a stable radio connection

Allowing large groups that have both mobile and stationary staffs to communication with one another
These capabilities makes Radio over IP compatible with multiple industries and their communication needs. Schools, hospitals, and manufacturing could all use RoIP to their advantage. Having a dependable form of communication that has extended range and flexibility of use can:
Radio over IP can be extremely useful for public safety and emergency responders as well. With most of the responding team being out in the field, working directly with the incident, having equipment that features long range communication is helpful. The capability to use the technology remotely or at base stations makes it easier for 9-1-1 call stations. With Radio over IP, those working as dispatchers can use this this communication station to easily transmit information to responding units. The functionality of Radio over IP ideal for emergency responders.
Radio over IP is a great communication solution for large organizations with diverse needs. By using this technology, organizations will experience quick transmission of messages, which improves communication and make all parts of the operation more efficient and organized.
To learn more about RoIP, or even other communications solution, contact Chicago Communications today.