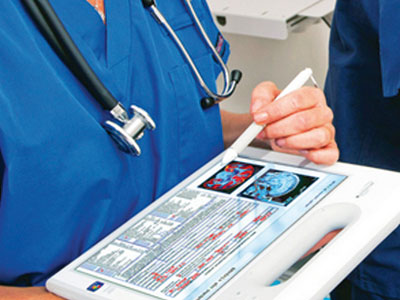 Technology evolution: we've seen such a transition in schools…from text books to eBooks, hand written papers to emailing assignments to professors, to text messages alerting parents of school closings. But what about healthcare? The wireless bandwagon knows no limits.
With the blistering cold taking my health from warrior to wounded status in a matter of a few days, it came to no shock that I found myself at the doctor's office to start off 2014. But what I noticed next took me by surprise.
Gone are the days of the traditional 'Sign-in Here' sheet at the front desk. Instead, upon arrival you're handed a tablet to fill out all of your personal information to keep on file, and you're automatically checked in once doing so. We also no longer see stacks upon stacks of patient records in those manila folders for filing cabinets, but rather the doctor comes in with his own electronic device that seemingly has everything from the date of your last visit to what foods you are allergic to, all stored securely and available at the press of a button.
Wireless communication in the healthcare industry has skyrocketed, allowing patients, first responders, and hospitals to keep in touch during every stage of an emergency. Of course two-way radios help keep the hospital and ambulances in sync, but there are some other technical advances in healthcare information technology to take note of.
Communication is critical in healthcare, so it's also no surprise that wireless options are proving to be more and more necessary for hospitals. Public Safety LTE links officials to one another for fast, secure, and reliable communication. According to Motorola, "Agencies can link LTE and two-way radio users together with secure, voice push-to-talk (PTT), and dynamically prioritize users and data serving the most critical incidents, de-prioritize non-essential traffic and when necessary pre-empt. First responders can experience real-time wireless video streaming that adapts to the changing signal quality inherent with wireless broadband."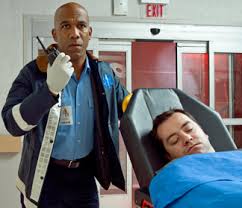 What does this mean for EMS and other responders? This keeps everyone in the loop, especially with interoperability. EMS can track an incident's location, while keeping their safety in mind with the knowledge that the scene is safe to enter. This type of communication also gives responders the ability to access real-time information to accommodate for any changes and adjust accordingly. Other wireless technologies include GPS, allowing ambulances to take the fastest route to the hospital or scene. Another benefit of wireless connectivity is the ability for EMS responders to monitor "patient vitals and treatment, hospital availability, ambulance transport arrival time and streamlines patient handoff."
Without this up to the minute access to information and interoperability, EMS responders could not do their job as efficiently, ultimately putting the patient and their own lives at risk.
Not sure what's switched over to the digital side of things? Some of the biggest emerging wireless technologies to swing through hospital doors include wireless monitoring of vital signs, wireless-enabled health trackers and location-aware telemonitoring systems. There's an increasing reliance on radio freqency identification technology in healthcare, Whether you're a patient or responder, wireless connectivity is vital to making sure you receive and are given a top notch experience.