One of the core services that we offer here at Chicago Communications is the implementation of secure wireless networks. As more people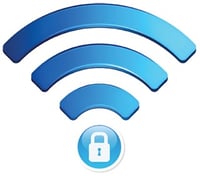 and devices are connecting to networks every day, it is essential to have a fast, durable, and secure network for your employees, tenants, guests, or customers. It is no longer a nice convenience for people to be in an area with free WiFi - it is a necessity.
While we spend the majority of our time implementing these networks and educating administrators on how to manage and use them, we always look for opportunities to educate the end user on wireless networking as well - especially on how to stay safe while online.
2015 will be a year marked as one of the biggest threats to cybersecurity in history, with everything from celebrity cloud storage to social media accounts being hacked at one point. The good news is that with the savvier digital hackers become, the more innovative the security solutions become, too.
While you wait for the next big WiFi security solution to come out, there are a few easy things that you can start doing right now to better protect yourself when you are online, especially in public places.
1) Consider Where You Are
This may seem like a no-brainer, but the truth is most people don't realize how vulnerable their device and their information is when using public WiFi.
Take a coffee shop, for example - it is a place most of us go to on a weekly (if not daily) basis, and use our phones, tablets, and laptops to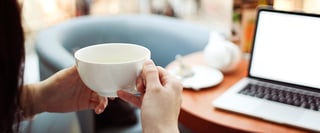 answer emails, shop online, or read the news. While we are browsing online, we may be holding conversations with a friend, enjoying a beverage, or even engaging is some people watching. All of these things can make you forget about the possibility that someone is trying to access your information.
Know your surroundings, and take note of the people sitting near you. If possible, avoid doing any online banking or bill paying when connected to a public network or HotSpot (save those things for home if you can).
2) Explore the Differences Between Free & Paid Networks
This isn't always the case, but many public venues do offer a more secure network, but for a price. These networks allow you to pay for a username or password and access to a more stable and protected connection, one with less users on it and a smaller risk of hackers.
Again, some public spaces only have the free network. If that is the case, just remember to be smart about the pages you visit and the information you share.
3) Check for "HTTPS" VS "HTTP"
For those online shoppers, be sure to check your browser bar for the type of URL you are on. If the website says "HTTP" in front of it, it is a standard website with no added security. If there is "HTTPS" in the URL, that means the website is secure. You can also look for a padlock icon, too.
The main takeaway here is that a public network is secured to a certain standard, but the pages you visit will vary in their encryption. So, as mentioned above, try to refrain from sharing any credit card or personal information on sites lacking that extra security.
4) Turn "Auto Connect" Off & Look for Signs
When you first open your device to connect to the free WiFi offered at the library or coffee shop you are at, take a moment to look for a sign that gives the WiFi name. In most cases, establishments have some signage near a register or on the wall with the name of the network, and believe it or not, that is actually a very important thing to look for when it comes to digital safety.
This is due to the fact that many hackers will create dummy WiFi networks with generic names. For example, if you are at John's Cafe, your first instinct may be to connect to the JohnsCafeFREE WiFi network. In reality, John's Cafe may have set up a more secure network for its customers, called JohnsCafeGuest.
That's why it is important to turn off Auto Connect, as you want to know the networks you are connecting to in order to avoid connecting to a hacker or dummy network. If you don't see a sign, just ask an employee in the area.
At the end of the day, there is a lot of responsibility on the user to engage in smart and safe behavior when using public WiFi. However, there is also an expectation that business and organizations implement secure networks for their guests to use without the fear of risking their personal information.
What does 'WiFi' stand for? Find out here!
If you are looking for more information on setting up a fast, reliable, and secure wireless network, contact Chicago Communications today or download our free resource below.