The communication in healthcare trends for 2018 will continue the industry's trajectory of improving access, tightening security and the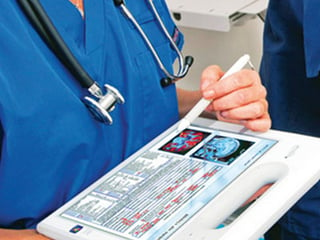 leveraging of innovation in wireless technology.
As in years' past, the next year of healthcare technology will be be powered by wireless communications, from digital two-way radios, to IP phones, to radio frequency identification, to nurse call systems and smartphone apps for healthcare.
Even with the uncertainty for the overall industry's future, here are some things that are certain about the 2018 trends for communication in healthcare.
Increased Patient Engagement
Thanks to online patient portals and other tools that increase patients' access to their personal health records, healthcare consumers are enjoying more engagement with their own care than ever before.
In the "2017 Patient Engagement Perspectives Study" by CDW, 95 percent of patients said they experienced benefits from engagement with their personal health care information online.
On the provider side, 71 percent said patient engagement was a top priority at their healthcare organization, up from 60 percent in 2016. Providers reported that online portals have improved patient care, as well as records tracking.
As patients become better informed about their conditions and care, they're expected to want more involvement in their treatment. An American Hospital Association survey found that 99 percent of hospital executives think that it's likely that patients will demand a larger role in the planning of their treatment by 2021.
More Spending on Cybersecurity
All data breaches are dangerous, and in the healthcare setting they can be devastating – and costly.
Data breaches cost the healthcare industry an estimated $6.2 billion every year, with the average breach racking up damages of $2.2 million and putting 3,128 records per incident at risk, according to the report, "The Rampant Growth of Cybercrime in Healthcare."
And the very tools and devices that are making life more convenient for patients and providers are the ones putting them most at risk. A Healthcare IT News study of C-suite executives, IT professionals, clinicians and department heads found that nearly 80 percent use tablets and almost 43 percent use smartphones to access the information needed to provide and coordinate care.
That's why more than 80 percent of healthcare organizations have signaled intentions to increase their security spending in the coming year. And why strides in strengthening healthcare information technology security are so important.
In one 2017 survey, healthcare organizations reported being most concerned about:
Ransomware: 69 percent

Phishing attacks: 61 percent

Negligent Insiders: 55 percent



Industry recommendations for stepping up cybersecurity include: taking a full inventory of all medical and personal devices that have access to protected health information, using two-way radios instead of smartphones for communication and providing a secure virtual private network (VPN) for staff to access healthcare information when they're off site.
Two-Way Radios to Enhance Onsite Security
Immediacy, reliability and dependability are just some of the reasons that people in the world's most mission critical jobs trust digital two-way radios to keep in touch, and that includes health care.
As violence in hospitals continues to increase, hospitals and clinics need a communications and response solution that puts help one button away. Digital two-way radios also gives health care settings independence from outside networks or commercial carriers.
In 2018, radios will continue to replace smartphones as the go-to communications device for medical providers and security staff.
Trend Watching
With all of the changes coming in health care, the one constant is the need to treat patients while protecting everyone onsite – and their data. A reliable wireless communications solution that's ready for the future will continue to be a must-have for health care settings.
To get the communications technology you need at your healthcare facility, contact Chicago Communications today!