Public Safety: Digital Communication
New wireless technologies have made it possible to communicate like never before. This public safety case study offers timely insights into digital communication. See how this county upgraded from analog to an advanced digital emergency communication system.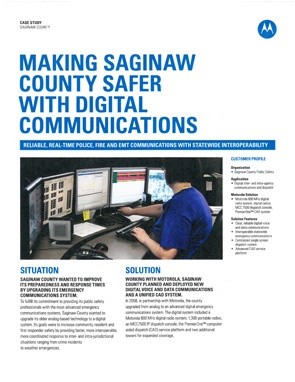 This free case study is perfect for those in public safety as it highlights the benefits of digital communication and interoperability for police.


Download Making Saginaw County Safer to learn everything you need to know about:
The move from Analog to Digital Communications
The Benefits of Interoperability
Eliminate Dead Zones and Garbled Voices
Resolve Dispatch Communication Issues
And more!