How Nation Pizza Sliced Response Time & Downtime
New wireless technologies have made it possible to communicate like never before. This manufacturing case study offers timely insights into how this progressive manufacturer sought a communication solutions that would improve operational efficiency. The findings are particularly relevant as manufacturers ramp up production.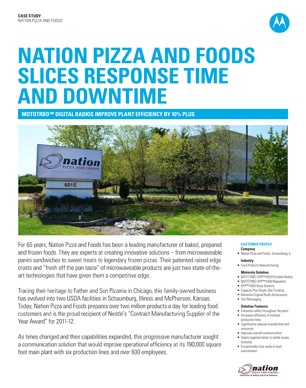 This free case study is perfect for those in manufacturing as it highlights the greatest communication challenges for manufacturers.


Download Nation Pizza and Foods to learn everything you need to know about:
Improving Response Time
Reducing Downtime
Increasing Efficiency in Every Department
Responding Instantly to Resolve Issues
And more!