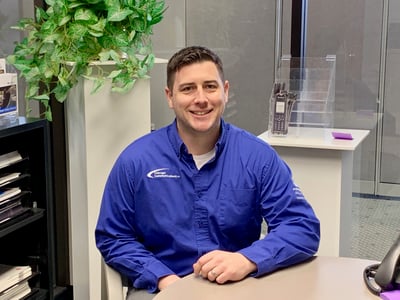 A Sales Account Executive with Chicago Communications, Jim Byrne says that while the company's focus may be technology and equipment, his favorite aspect of working at ChiComm is the human component.
"The people here are friendly and welcoming," he says. "And they care, not just about customers, but about each other. We're a family."
It's a quality that's made his job at Chicago Communications stand out from the other sales positions Jim's held since college, including account manager and outside sales representative.
People and Commitment
The good people, along with the opportunity to learn about new types of technology, led Jim to the ChiComm team in May 2018. Since starting, he says one of his proudest moments was achieving his first big sale, which he worked on for over a year.
"What was important to me wasn't that we closed the deal," he says. "What mattered is that we spent the time needed to walk the customer through solutions and arrive at one that would drive value for years to come."
This is part of the excellent customer service Jim always emphasizes to customers. He says customer service and satisfaction are key elements of the Chicago Communications experience, and providing that personal relationship and partnership is what Jim takes pride in.
More About Jim
Originally from Tinley Park, Jim graduated in 2012 from Illinois State University with a degree in criminal justice and a minor in business administration. He recently got married this past October, and will be closing on his first home this June. In his spare time, he can be found at the gym or on the golf course. The three things he says he wouldn't want to live without? Friends, family and sports.