It doesn't matter if you just bought a new two-way radio system or have owned it for years. If you don't have the right accessories for your communication needs, are you really getting the most out of the system?
Here's a list of must have add-ons for your two-way radios. If you use MOTOTRBO, there are some additional recommendations for the best accessories to use.
Earpieces and Headsets
Most employees or staff members need both of their hands to remain free during the day. In order to communicate even with the busiest team members, consider earpieces and headsets. These accessories give users the freedom and flexibility to receive and transmit messages in a more convenient fashion.
For public safety responders, wired mics might be a great accessory to add to your inventory. When dealing with sensitive information or while responding to dangerous situation undercover, having surveillance equipment can allow responders to discretely communicate on and behind the scene.
Belt Clips, Loops and Carrying Cases
If your staff or team is constantly on the go or moving, consider purchasing belt clips or loops. Attaching the radios to these carrying systems can make transporting the device safer and more convenient. Since the handset is literally attached at your hip, it goes wherever you go, allowing you to communicate at any moment's notice.
Providing your team with carrying cases will give your radios an extra layer of protection. Having an additional external barrier covering the actual device makes the entire set more durable and last longer.
Antennas
Antenna attachments can enhance your radio frequency, making this accessory appealing to those that are attempting to communicate over large stretches of land. If you look into purchasing different antennas, be sure to buy one with that maximize results, and not diminish them due to being too powerful for the radio's' capabilities.
Chargers and Batteries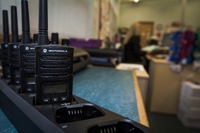 Chargers and batteries come standard when you purchase new radios but you can always buy additional equipment to better suit your needs. Just keep in mind that to maximum the usage and lifespan of your devices, you need to buy the appropriate and compatible accessories for your two-way radios.
Learn easy maintenance tips to extend lifespan of devices and take care of your batteries to minimize the likelihood of having to replace them.
You don't have to purchase every accessory available but having some additional equipment can maximize the functionality of your handsets, making your team more productive than ever.
To learn more about Motorola radio accessories or two-way radios in general, contact Chicago Communications today for more information!