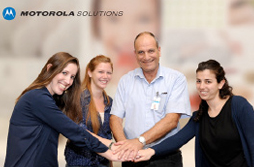 As we wrapped up Customer Service week here at Chicago Communications just a few weeks ago, it was hard not to notice the corporate responsibility that Motorola displays throughout the year with police, fire departments, and other safety sectors.
The
public safety
communication company is a big advocate for helping these agencies offset many costs that are vital to improvements of systems and equipment that keep us safe 24/7. As the end user, we don't see the thousands of dollars it takes to keep a
911 center
up and running – we just know we should be able to count on them whenever we have an emergency.
Motorola Solutions has helped out the Public Safety sector in numerous countries. Some examples include providing fire alarms to low-income households in Taiwan, training citizens in local communities for disaster relief in the Philippines, providing training on investigative crime analysis in South America, helping citizens report crime information anonymously in New York, and worked with border patrol to help keep the Canada/US border secure. Motorola also pulled through for various natural disasters throughout the United States last year.
In 2013, Motorola has spearheaded grants here in the United States to organizations such as a $100,000 donation to the American Red Cross for emergency responders on the east coast, $25,000 to the American Red Cross for Hurricane Isaac victims, and $25,000 in relief efforts to the American Red Cross for Wildfire damage.
So what does all of this money actually do?
Money donated towards furthering education at all levels can include purchasing wireless network systems, mobile computers, two way radios, and other technological solutions to help keep STEM (science, technology, engineering, and mathematics) programs up to date and functioning.
Fire and emergency services know firsthand just how ever-changing the world of technology is. Money granted by Motorola can help increase interoperability, update federal and regional banding standards, and more.
Urban and rural law enforcement benefit alike from Motorola grants. Urban agencies can benefit from the added interoperability from Motorola Grants and the more rural agencies benefit from adequate coverage.
So, how do you get these grants?
Fire departments and law enforcement have a lot of ground to cover within their budget. Motorola and the government implement these grants to offset such costs.
Responders who are in need of money to enhance vehicles, radio systems, and other components should check out FEMA Assistance to Firefighter grants (AFG) that departments can apply for.
Motorola also offers an Emergency Management Grant that provides money to states who are in preparation of hazards and natural disasters. This can include "planning, operations, equipment acquisition, training, exercises, and construction and renovation in enhancing and sustaining their all-hazards emergency management capabilities" by Motorola.
The Department of Homeland Security offers a SAFECOM grant to help update and maintain emergency communications with fire departments and law enforcement. DHS is working towards an improved interoperability between departments, including "interoperable emergency communications projects, including allowable costs, items to consider when funding emergency communications projects, grants management best practices for emergency communications grants, and information on standards that ensure greater interoperability. "
Check out the Motorola Solutions grant website to read more about your specific sector, deadline dates, and guidelines.