Meet Our Technicians: The Experience Behind ChiComm
To date, I've interviewed and shared the unique stories of over 15 members of ChiComm's qualified service team. So it only seemed fitting to

meet with the leader of the pack, so to speak. Emory Ludtke, III, is that leader. A leader who not only likes to preach that "Failure is not an option" but one who also says: "I'm in charge of supervising some of the finest radio technicians I've come across in all my travels around the world."
Emory grew up in Elgin and signed up for the military before he had even graduated high school. He knew he wanted to travel and get an education so he planned accordingly. Starting early meant getting the entrance exams, paper work, etc. over with so he could be shipped to boot camp shortly after school got out. This landed him in Texas for 4 months for basic training followed by 8 months of specialized training at the Keesler Air Force Base in Mississippi. Since Emory had demonstrated electronics to be his strongest skillset this became his area of trade, while he also became experienced in radio and wideband communications.
After training Emory was assigned to work on location at Mt. Vergine in Italy. The Mt. Vergine site was built because it was near Naples, one of the largest naval hubs in the area. This was a self-maintained military site (of less than 100 ppl) on top of the mountain. By maintaining this global relay site, Emory played a part to ensure all voice and data channels were properly transmitting and receiving all communications coming from the U.S. Military amongst other bases across Europe. Keep in mind this was in the 1980's, so data was sent as teletype, coming up on a screen. He and his team would gather the confidential information, make sure it was crypted and secure, then relay or distribute that information to wherever it needed to go. Today communications work about a thousand times faster since everything is computerized. But back then, this communications site was part of the Digital European Backbone (DEB) that tied all the communications for this region of the world together. It essentially allowed 1 military base to securely talk to another one that was thousands of miles away.
When his tour in Italy was up, Emory was moved back to NY where he worked at Griffiths Air Force Base for several months. He was a member of the EIG (Engineering Installation Group) working on installations for multiple types of communication, security and surveillance systems. This kind of work also involved preventative maintenance and repair of transmitters/receivers, transistors, microwaves, etc.--which is similar to what ChiComm's technicians do now, just on different equipment. He also had to make sure systems were running 24/7/365.
After serving 4 years in the U.S. Air Force, Emory decided not to reinlist and took an honorable discharge. Once he was back in Illinois he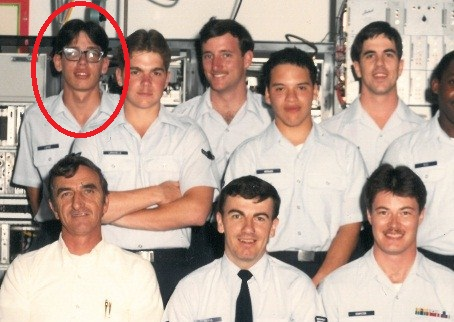 started working for a weapons company training army and marines how to use M-16's. It didn't take too long before an itch to get back into communications started. And following this path would lead him to ChiComm. By this time it was 1990, and with pagers and cell phones becoming such a mainstream form of communications, Emory quickly landed a job at a place selling and servicing pagers, cell phones and two way radios, called MetroCom. Emory worked on pagers (repairing them down to the components), then became a paging supervisor, then moved into two way communications when he was offered a field tech position. Meanwhile, Chicago Communications went on to buy MetroComm in 1991. As a technician Emory maintained two way radio systems (mobiles, portables, installs, service calls, repairs, maintenance). His work took him to a few different shop locations but he spent most of his time at Chicago Loop location on 955 W Madison-until about 1999. When the Shop Supervisor Emory had spent time working under retired, he filled the position. Emory has now been in charge of all service superivising responsibilities for over a decade, and he still enjoys his job as much as the beginning. "I enjoy what I do," Emory says. "It is physically and mentally challenging at times but it is a great feeling when things work out." Emory has stuck with it for so long because every day is different, so the job keeps him on his toes. To him the best part about working at ChiComm is he has "the BEST co-workers around."
But what about all the changes there's been in technology over the past decade or two...how does he keep up? Emory told me, "Technology has tremendously impacted my job. Every day I read about a new product or theory in Communications and I have to be prepared for it. It really is exciting to see how the industry has changed in just my 25+ years (both Military and civilian). Constant and consistent training is a HUGE importance in adapting and keeping up with the changes in technology."
So what else makes Emory the right guy for the job? I'll leave that to him to answer... "Customer service is #1 on my list. Making sure that the customer is 100% satisfied by what my guys repair for them is really important for me. I truly do not enjoy hearing of a dissatisfied customer, it means we failed somewhere. One of my favorite sayings is "Failure is not an option" and I stand by that. Our customers really,really appreciate when we work on an issue for them and get them back in operations whatever that may be (Taxi dispatch, Public Safety, School bus) or where ever communications is needed!" Those are words not only Emory stands by, but also the rest of the qualified staff at Chicago Communications.
To get some helpful hints for your communications system browse through some related articles on our blog, hear from our infamous FREQ Squad, or...
This article was written by Jill McNamara, Internet Marketing Coordinator at Chicago Communications.